Brazil/UK defence cooperation treaty; joint amphibious exercises in Rio
Monday, September 20th 2010 - 21:19 UTC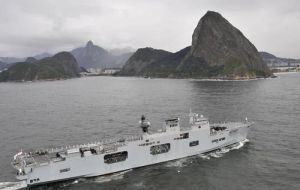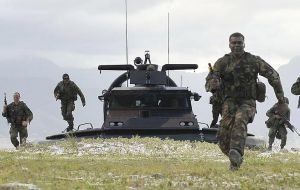 Relations between the UK and Brazil were strengthened this month following the signing last week in Brazil of a Defence Cooperation Treaty between the two countries, according to the English publication Defence News and Business.
The defence cooperation treaty was signed by UK Minister for International Security Strategy, Gerald Howarth, signed the treaty with the Commander of the Brazilian Navy, Admiral Moura Neto following UK/Brazil joint amphibious exercises involving the Royal Navy's largest ship HMS Ocean.
Howarth praised Anglo-Brazilian relations that "have always been strong and the purpose of my visit is to strengthen these ties further, principally by signing a Defence Cooperation Treaty with the Brazilian Government".
"This treaty offers much more than grand gestures. It is designed to enhance long-term defence and security cooperation" said Minister Howarth. He added that the UK and Brazil "are old and trusted friends and I believe that this treaty will mark a new dawn in defence relations between our two countries".
"We understand the importance of having an open exchange of ideas on defence issues. Only proper strategic engagement, industrial partnership and technology transfer will help us to reach agreement on solutions to our mutual challenges."
Howarth said the nature of conflict itself is changing, "we need genuine long-term partners and we recognise that we need to strengthen bilateral relations with dynamic and increasingly self-confident countries like Brazil".
"We do not take Brazil's support for granted. They are a strong ally and a stabilising influence in Latin America".
Howarth on his first visit to Brazil since taking up his appointment met with leading members of the Brazilian military and industry onboard Amphibious Helicopter Carrier HMS Ocean, the Royal Navy's main assault vessel and the venue for the UK-Brazil seminar on future co-operation in the defence and security sectors.
The UK minister stressed the importance of Brazil as a rising economic force with a growing international voice and went on to say that Britain actively encourages Brazilian investment in the UK.
"I would urge Brazilian industry to identify how its technology might improve UK capabilities, reduce costs, and manage risk. Similarly, we will encourage our companies to build strong partnerships with local Brazilian industry, bringing new skill sets, new training opportunities and new jobs as you develop your national assets".
Howarth praised the Brazilian aerospace company, Embraer, as a particular example of a development success story. The company recently announced an enormous order at the Farnborough Air Show with several airlines, including the British regional carrier, Flybe.
Howarth also used the procurement of new ships as an example of a shared UK-Brazil challenge. "The design of the Type 26 ships, which will replace the UK's current generation of frigates, brings with it a tremendous opportunity for cooperation with Brazil through partnering, rather than simply through a customer-supplier relationship."
Howarth went on to talk about the changing face of conflict and to thank Brazil for their continued support of British military assets in the region.
"We do not take Brazil's support for granted. They are a strong ally and a stabilising influence in Latin America".
"When facing future challenges it makes sense to be smarter about when and how we deploy military power, whether diplomacy, training, deterrence, or use of force; which tasks we can do in alliance with others; and therefore what capabilities we will need as a result. That's why we wish to encourage full strategic defence partnerships with countries like Brazil."
Brazil will face additional security challenges in the coming years now that it has been selected to host the football World Cup in 2014 and the Olympics in 2016.
"Britain remains a formidable force across the whole spectrum of world affairs. Our security expertise will be vital to a successful London Olympics in 2012, and I would urge you to consider drawing on the well of British industry excellence as you make your preparations for the World Cup and the Olympics."
Mr Howarth concluded his visit onboard HMS Ocean with a dinner, hosted by Captain Keith Blount and his crew, to mark the 150th anniversary of the death of Lord Cochrane who accepted an invitation in 1823 to take command of the Brazilian Navy.
Lord Cochrane played a significant role in helping Brazil to become a self-confident, trail-blazing world power. Lord Cochrane's great-great-great grandson is today a serving Commodore in the Royal Navy.
"Lord Cochrane's achievements remind us of the enduring friendship between Britain and Brazil and our hopes for the future. His goals and outstanding professionalism were shared with his Brazilian crew. 150 years later, shared goals and outstanding professionalism have brought Britain and Brazil together once again.
"My advice to both British and Brazilian industry is that if you come across a seemingly insurmountable obstacle, don't give up. Be flexible, be inventive, think laterally, and listen. Find a way. Summon the resolve to see things through."
Mr Howarth spent the night onboard HMS Ocean and took time to meet the crew who had just taken part in the UK-Brazil joint amphibious exercise to demonstrate some crucial capabilities which will help to protect infrastructure associated with oil development.