Falkland Islands fishing industry unconcerned about Argentine interference
Wednesday, September 22nd 2010 - 18:16 UTC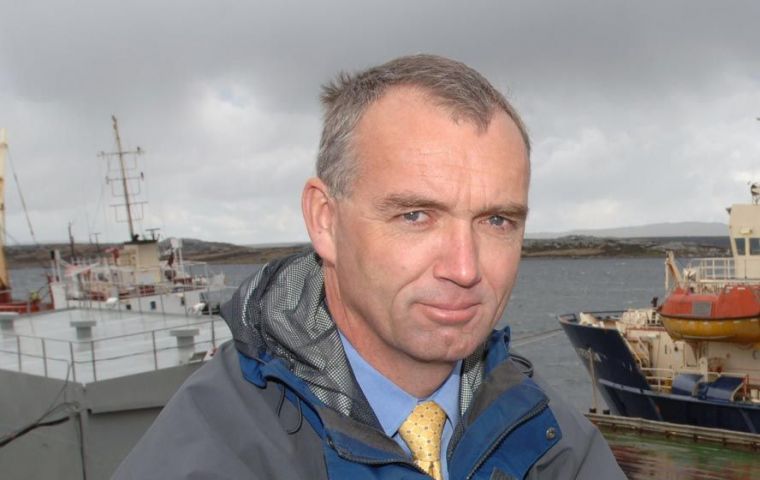 DUE to planned port developments in the Falkland Islands, fishery executives there appear unworried by Argentina's most recent attempt to interfere in their fishing industry.
Despite a Spanish flagged trawler that operates in Falkland Islands waters being denied passage through Argentine waters to Montevideo to unload fish this week, Falkland Islands Government Director of Fisheries John Barton indicated to Mercopress that the Falklands industry can take such incidents in its stride, particularly as it expands its port facilities.
Mr Barton explained, "A lot of vessels already do most of their business in the Falklands. Their catches are transshipped here and transported to market by reefer container or reefer vessel, and provisions and spares are brought in by whatever means.
"In a high catching season vessels will tranship here regularly and it might only be at the end of the season that vessels go to other ports. The ITQ system allows for more flexible use of fishing vessels which may result in some vessels operating here for longer periods as companies can share catching capacity. The industry will adapt."

Although plans for a new deep water port are still being examined in the Falkland Islands, Mr Barton said, "Operations can continue as they have with existing port infrastructure and there is ongoing investment to provide for increasing cargo volumes at FIPASS (the port at Stanley)."
Speaking of the developments in provisions for the increasing volumes of cargo, Manager of the Falkland Islands Development Corporation (FIDC), David Waugh, explained the Falklands Government and FIDC, "…naturally are of the view that the container shipping service to the rest of the world is a vital strategic link for the Falklands - economically and socially. That link is currently provided by a combination of the Falkland Islands Resupply Service which is operated by the Ministry of Defence between the UK and Mare Harbour, and the container ship service between Stanley and Brazil that is operated by South American Atlantic Services Ltd.
"The proposed development of a new port is largely intended to facilitate the sustainable growth of fishing catch transhipments into reefer containers in the Falklands as well as support other export industries such as meat and wool. In the meantime, it is recognised that FIPASS has various inherent constraints and that the shore-side infrastructure with respect to container handling, storage and management is inadequate for both the current situation and the planned growth in container traffic - especially of reefers. Thus FIDC and FIG have put into place a temporary container transit yard at Gordon Lines (nearby) and the Falkland Islands Government is currently building a new and more substantial container yard close by. This new yard will form part of the improved port infrastructure."
Speaking to the Falkland Islands Radio Station this week a spokesperson for Sulivan Shipping Ltd. the ships agent in the Falklands, said the incident involving the trawler Costa do Cabo that forced it to take a much longer route, was inconvenient for the operators and had caused increased costs, "…but as people here in the Falklands are resourceful this economic blockade will not have a great effect and could possibly have a positive outcome if vessels decided that it was easier to do all their business here in the islands instead of in Montevideo if the right facilities became available."
By Lisa Watson - SealedPR - Stanley