Head of the US 700 billion USD bail-out program steps down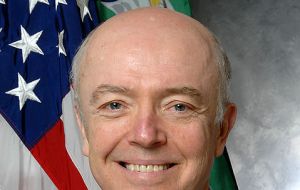 The US Treasury Department official in charge of overseeing the government's Troubled Asset Relief Program (Tarp) is stepping down. Herb Allison said that he was resigning now that the US bail-out programme was winding down.
He revealed his plans in an e-mail to colleagues that the Treasury Department has made available. On Tuesday, President Obama's top economics adviser, Larry Summers, announced his resignation to return to teaching in Harvard.
Tarp was proposed by then-US Treasury Secretary Henry Paulson in October 2008.
It was a program that saw the US spend more than 700 billion USD to purchase distressed assets, especially mortgage-backed securities, and make capital injections into banks.
The goal was to stabilise financial institutions and to encourage banks to resume lending again at levels seen before the financial crisis. Much of the money funnelled to banks has now been repaid.
Although still going, from next month Tarp will not be able to commit funds to new projects.
Treasury Secretary Timothy Geithner said he wanted to "praise and celebrate" the work done by those running the Tarp program.
"While we have succeeded in putting out the financial fires that caused this deep economic crisis, we have not yet repaired all the damage," he added.
The scheme has, however, had its critics, with many questioning the government rescue of big banks while unemployment was climbing and thousands of Americans were having their homes repossessed.
Tim Massad, named as Allison's interim successor, was a partner at New York-based Cravath, Swaine & Moore LLP for 17 years. While on leave from the firm in late 2008 and early 2009, Massad was special legal adviser to a congressional panel on economic stability, the Treasury said in a relief.
Besides Summes and Allison, earlier in the year economic advisor Christina Romer and Peter Orzsag head of the Budget Office also left the White House.