FARC names new military chief; US has a 2.5 million reward on his head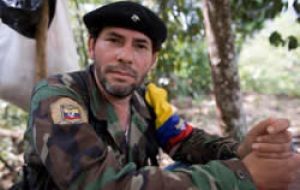 Colombia's narco-terrorist guerrilla group Revolutionary Armed Forces of Colombia (FARC) has named a successor to one of its top military commanders who was killed in a military air strike five days ago.
Víctor Julio Suarez Rojas, also known as Jorge Briceño Suarez, was killed in an operation by government forces last week in the Macarena region of FARC stronghold.
A FARC executive committee meeting on Monday decided to replace him with 51-year-old Felix Muñoz, alias Pastor Alape. In an online statement, the guerrilla group vowed to intensify its fight to topple the Colombian government.
President Jose Manuel Santos, who took office and the fight against rebels from his predecessor Alvaro Uribe last month, described the key FARC leader's death as "the hardest blow" in the nearly half-a-century-old history of the rebel movement.
Wanted by the US for killing three of its citizens, terrorism and narcotics trafficking activities, Suarez Rojas was heading FARC strongest fighting division, the Eastern Bloc.
Colombian security forces had been on the look out for him for almost ten years. Fondly called by his followers as Mono Jojoy, the FARC leader carried a reward of up to 5 million USD for information leading to his arrest or conviction.
The new commander Alape was until now head of the Magdalena Block in central Colombia and according to US authorities is responsible for the shipping of hundreds of tons of cocaine from the region where he imposed over the local peasants the control, production, processing and distribution of the drug.
The US State Department has a 2.5 million USD reward on his head or information leading to his capture.
FARC also revealed that the Eastern block will now be named after the killed commander Jorge Briceño and will continue under command of Mauricio Jaramillo.
In the same message FARC admits the death of Jojoy Briceño, one of the most wanted, cruel and feared leaders of the narco-terrorist group, as well as the killing of nine other guerrillas in the so-called operation 'Sodoma'
FARC reiterated its willingness to begin peace talks but rejects President Santos conditions which include the release of all kidnap victims, an end to hostilities and the willingness to hand over weapons before re-integration to society.