Chavez two seats short to be granted special decree powers avoiding parliament
Thursday, September 30th 2010 - 00:54 UTC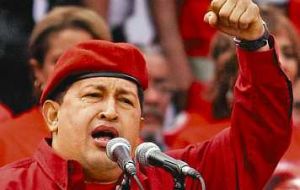 President Hugo Chávez's Venezuela's United Socialist party just beat a newly united opposition bloc for the popular vote at Sunday's legislative election that split the country down the middle, final official results showed.

The National Electoral Council said the ruling PSUV took 5.45 million votes or 48.9% of ballots cast in Sunday's poll, compared with 5.33 million votes or 47.9% for the Democratic Unity umbrella group.

Chavez said the presence of a rejuvenated opposition in the 165-seat National Assembly will not hinder his legislative agenda and promised to accelerate his socialist reforms.

The focus is now on the next presidential election, when the opposition will hope to win by maintaining their newfound unity, finding a candidate with national appeal, and developing a policy platform that goes beyond simply being anti-Chávez.

The final results gave Chávez's party 97 seats, 2 short of the three fifths needed to grant the president decree powers letting him bypass parliament. Democratic Unity had 65 seats, and smaller parties took the other three.

The opposition is concerned Chávez may now rush through new legislation in the three months before the newly elected members of parliament take their seats on Jan. 5.

The charismatic and populist leader has enjoyed a virtual rubber-stamp National Assembly since opposition parties boycotted the last parliamentary poll five years ago.

On the political front, Chávez is determined to give more power to local grass-roots groups where loyalty to him is more assured than in parliament.