"Argentina seeks to service all its debts" promises Mrs Kirchner in Germany
Wednesday, October 6th 2010 - 17:34 UTC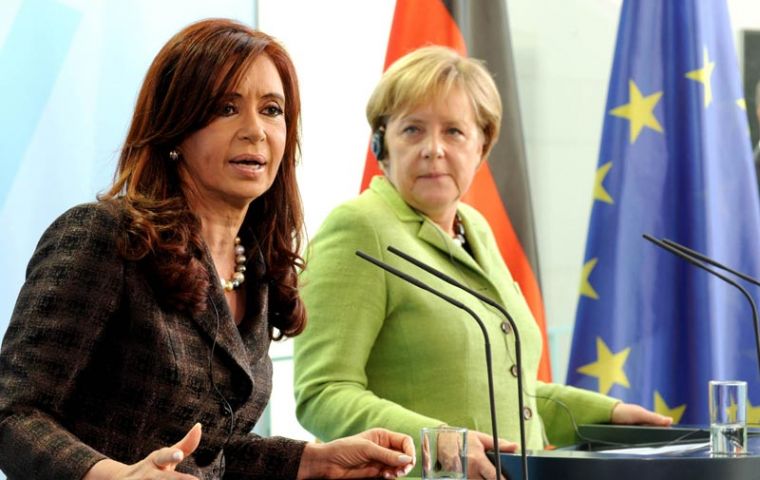 "Argentina seeks to service all its debts" said President Cristina Fernández de Kirchner following a meeting with German Chancellor Angela Merkel at the chancellery in Berlin. Mrs. Kirchner is on a three day high profile visit to Germany where she also met with President Christian Wulff in Berlin's Bellevue Palace.
"This is the only (Argentine) administration to have never issued debt; what is more, we have been servicing our debts since 2003. Argentina is clear when stating that it seeks to service all its debts" said Mrs Kirchner during a round with the press next to Chancellor Merkel.
Argentina has a pending debt with the Paris Club (developing countries development agencies) and has stated on several occasions its intention of negotiations for the cancelling of the over seven billion US dollars sum.
However Foreign Affairs minister Hector Timerman said that the issue "is not included in the official agenda".
Mrs Kirchner is also scheduled to meet with Max Planck Institute head Peter Gruss in the framework of the German institute's plans to settle in Argentina, probably next December at a Science and Technology Ministry field in Palermo. The president is also scheduled to meet Argentine scientists based in Germany.
The Argentine president and German Chancellor pledged to create a bilateral commission to even up the balance of trade, which currently favours Germany.
On Tuesday Mrs Kirchner opened the Argentine pavilion at the Frankfurt Book Fair considered a very important event for the cultural scene since Argentina is this year's "Guest of Honour". Besides the Argentine delegation present at the event were German Foreign Secretary Guido Westerwelle, Frankfurt Mayor Petra Roth and the head of the Argentine Committee in Frankfurt Magdalena Faillace.
On Thursday Mrs Kirchner will focus on trade and economic issues meeting with the general managers of energy companies Wintershall and Ferrostaal, as well as the heads of Siemens and businessmen from Bayer and cars company Volkswagen.
As a way of concluding her institutional trip, Cristina Kirchner will attend an event organized by Lateinamerika Verein, a business association active throughout Germany that promotes the economic and social relationships between Germany, the European Union and Latin America. She is scheduled to be the main speaker at the event to be held at Hanover.