Chilean state oil company ENAP strikes natural gas deposit in Tierra del Fuego
Wednesday, October 6th 2010 - 23:21 UTC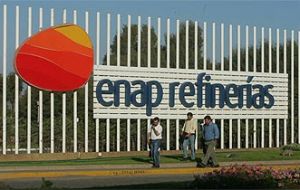 Chilean state owned oil and gas company Empresa Nacional del Petroleo SA, Enap, discovered a new natural-gas well on the Arenal exploration block on the Tierra del Fuego island in the extreme south Magallanes region, the company said Wednesday.
ENAP's current natural-gas production supplies the southern city of Punta Arenas and its output is also sold to Canadian methanol producer Methanex Corp. (MEOH), the world's largest supplier of methanol.
Initial production tests carried out in the Springhill formation showed a depth of between 2,200 and 2,250 meters, with flows of 180,000 cubic meter per day of natural gas (6.3 million cubic feet daily) and 25 cubic meters a day of condensed (150 barrels per day).
Production tests of longer duration are planned for the immediate future, to determine volumes under stabilized conditions that provide additional information on the reserves and thus the size of the deposit.
The interim manager of ENAP's Exploration and Production (E&P) Division, Rodrigo Bloomfield said that "the find is very encouraging because the Arenal well forms part of a portfolio of prospects on which we are working and which we will continue to develop over the next few years".
He added that ENAP produces four million cubic meters of natural gas in Magallanes and the new discovery represents about 5% of total production in the Magallanes region.
The exploration program in the Arenal Block began with the acquisition of 940 km2 of 3D seismic in 2008, and based on this seismic information and pre-existing information, a large number of exploration and development opportunities was defined.
Five wells have been drilled to date, three of them productive (Chañarcillo 37, 38 and Manantiales Oeste 1), one with signs of gas but with a small contribution (Tyndall 1), and the remaining (Cachapoal 1) dry.
The 2010 work plan includes the drilling of another three wells which will permit continuing to corroborate the geological models on which the discoveries made are based. For next year, it is planned to continue the drilling campaign of exploration prospects in this block.
Enap supplies about 80% of Chile's fuel needs and exports refined products to Peru, Ecuador and Central America.