Argentina claims IMF wants rich world's "stagnation" exported to developing countries
Saturday, October 9th 2010 - 00:21 UTC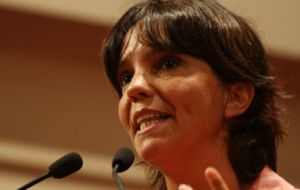 "The IMF wants to make us believe that the policies which caused the crisis are now going to be part of the solution", said Argentina's Central bank president Mercedes Marcó del Pont following the opening of the IMF/World Bank annual assembly.
Marcó del Pont met in Washington with the presidents of the Spanish and Brazilian central Banks, Miguel Fernández Ordóñez and Henrique Meirelles, respectively, with whom she analyzed the international economic scene and the risks involved in insisting on formulas that have already failed in order to overcome the global crisis.
"The IMF now recognizes that emerging countries are facing the inflow of financial capital, but before this situation it suggests the market should be the one to determine the type of exchange. In reality, what the Fund is promoting is an appreciation that would have, as consequence, developed countries exporting their stagnation to emerging countries," Marcó del Pont remarked, and she added: "But there is consensus among emerging countries to not allow this to happen."
"In emerging economies, there is a clear conscience of the danger that appreciation implies and the risks involved in the inflow of short-term capitals, and that is why we're not going to allow the developed world to use our dynamic, internal markets as a lifesaver," the CB head said.
Marcó del Pont highlighted, in this sense, the relevance and opportunity of the decision made by President Cristina Kirchner to keep financial capital inflows under control that governs Argentina, ignoring the claim made by some market sectors.
"Some months ago, Argentina proposed these issues and was alone, and now there is an ever-increasing homogeneity in warning of the risks implied in speculative capital movements," she assured.
Meanwhile Director of the IMF's Western Hemisphere Department Nicolás Eyzaguirre confirmed he is scheduled to soon meet with Argentine Economy Minister Amado Boudou, which he assures will take place in a "pleasant and positive manner as usual."
Regarding the possibility of an eventual joint revision of Argentina's economy, Mr. Eyzaguirre said Argentina had yet not replied with regards to an eventual reviewing of Chapter Four. "However - he clarified- conversation with Argentine authorities is swift and constant, as well as our observation of economic developments. Therefore, our relationship continues despite not having discussing Chapter Four yet."
Eyzaguirre concluded by adding that even tough it is mandatory for member countries to abide by these chapters, it's up to the members to establish how countries must comply with them.