Brazilian economy larger than Italy's next year, according to IMF estimates
Tuesday, October 12th 2010 - 07:00 UTC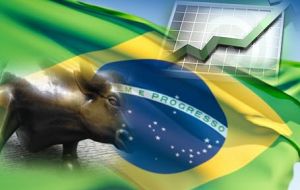 Brazil's economy will likely be larger than that of Italy next year, according to the latest data from the International Monetary Fund (IMF).
Brazil is already the 8th-largest economy in the world and will likely become the 7th-largest next year, according to a Latin Business Chronicle analysis of the IMF projections.
It will keep that rank through 2015, IMF forecasts show.
Brazil's current size makes it larger than both Russia and India. Along with China they are grouped in the so called BRIC group of emerging market stars.
Brazil's GDP now stands at 2 trillion USD compared with 1.5 trillion for Russia and 1.4 trillion for India. (China's is 5.7 trillion).
Next year, Brazil's GDP will likely grow to 2.2 trillion. That compares with 2.1 trillion for Italy. In 2015, it will grow to 2.8 trillion, the IMF forecasts.