China resumes purchases of Argentine soy beans banned since April
Tuesday, October 12th 2010 - 06:59 UTC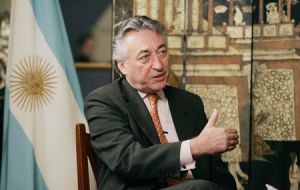 China's two largest state-owned grains and oilseeds trading companies to import soybean oil from Argentina, easing restrictions imposed in April. Beijing-based Cofco Ltd., China's biggest grain trader, and China Grain Reserves Corp. have been cleared by the commerce ministry to import soybean oil from Argentina.
China halted shipments from Argentina, the largest supplier, in April because of trade disputes ranging from textiles to kitchen products. The move to ease restrictions follows an improvement in relations between the two countries, with Beijing in July agreeing to work on rail projects worth at least 12 billion USD in Argentina.
"China and Argentina seem to have improved relations recently and the two countries want to put the soybean oil row behind them to form a more extensive trading partnership in areas including energy and railroads," Li Qiang, managing director at Shanghai JC Intelligence Co., said on Monday.
China's commerce ministry told a closed-door conference of traders on Oct. 9 that shipments from Argentina will be allowed to clear customs even if they fail to meet a limit on solvent residues in soybean oil, the traders said. Solvents are applied to crushed beans to extract more oil.
China will soon lift restrictions on imports of soybean oil from Argentina as the nations seek a closer relationship, Ambassador to China Cesar Mayoral anticipated in August.
The Asian nation bought record amount of soybeans in the first eight months of this year at 35.53 million tons, up 20% from a year earlier, according to customs.