Spanish, the third most common language in the web
Tuesday, October 12th 2010 - 00:42 UTC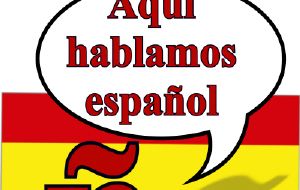 Spanish is the third most common language in the web with 136 million users which represents 8% of the total number of internauts in the world, behind English (38%) and Chinese (22%) according to a report from Fundacion Telefonica New York.
The document under the heading "Spanish in the web" is the conclusion of a research by a team led by Applied Economics professor Jose Luis Garcia Delgado, head of the program "Economic value of Spanish".
"Spanish occupies the second position as the international communication language by number of speakers", because it is estimated that 500 million in 21 countries speak the language of Cervantes.
"Spanish is the second multinational language, behind English" said Garcia Delgado who underlined the growing interest among Scandinavian and East European countries to learn Spanish as a second language.
He said that in the United States Spanish is rapidly becoming "a cultural product very much valued by second and third generations of Hispanics well educated and wishing to remain faithful to their roots and the language".
The report also discovered that the Latin internauts in US are one of the most active populations, with 47% consuming more than a daily hour in the web compared to only 44% that spend an hour or more watching television.
"This can be explained because probably a great number of Hispanics in the US have a higher education level, besides the tendency to conserve the language" according to the expert.
The report was concluded a year ago and states that Spanish in internet ranks third in the world both in the number of users (123 million) as in the number of pages (675 million).
"Access to the web in the Hispanic community is 30.5%, just above the world average, with a 900% increase between 2000 and 2009", says Garcia Delgado.
English is the language with most presence in the web, almost a billion pages, followed by Chinese, 800 million.
Argentina, Chile and Spain are the Spanish speaking countries with the highest percentage of connection, 50% of the population and in Spain70%.
Colombia, Costa Rica, the Hispanic population in the US, Dominican Republic and Uruguay have connection percentages above 30%. In Mexico the percentage is 27.4% which means 27 million internauts.
Currently there are 339 million servers in the national domains of Spanish speaking countries as well as 78 million IP (2.58% of the world volume) and 6.2 million domains, underlines the document.