Chile to insist on extradition from Argentina of terrorist accused of crimes in democracy
Saturday, October 16th 2010 - 01:41 UTC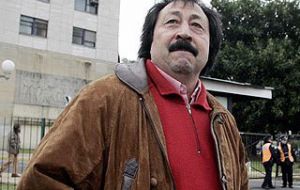 Chilean president Sebastián Piñera's administration announced it has decided to file a formal complaint before the National Refugees' Committee (CONARE) as a way of deepening their discontent on the political asylum the body decided to grant to ex guerrilla fighter Sergio Galvarino Apablaza Guerra.

The Chilean government will tackle the CONARE move and is to request for the decision to be "reconsidered." This way, Piñera's administration aims at reversing the situation and force Apablaza to be back in his country for him to be tried.

Chilean attorney Gustavo Gené will be in charge of filing the request, as he had been taking the lead in the case and preparing the outlines for the complaint.

The former member of the FPMR Manuel Rodríguez Patriotic Front is wanted by the Chilean justice system for allegedly murdering right-wing senator Jaime Guzmán and kidnapping media businessman Christian Edwards del Río, son of the owner of El Mercurio newspaper, in 1991, when Chile was back in democracy.

Apablaza, who insists he is the victim of political persecution in his native country, went to court to learn details about a request for detention that the Chilean State presented against him.

The former guerrilla leader agreed to not leave the country and present himself before the judge weekly. Bonadío is the same judge who led Apablaza's extradition trial in 2005, when he ruled against the request for extradition.

Mr. Apablaza is married to Paula Chain, who happens to be a member of President Cristina Kirchner press relations office at Government House (Casa Rosada) and usually accompanies the Argentine president whenever she travels overseas, the most recent trip was to Germany.