China purchases 70.000 tons of Argentine soybean oil; in November 80.000 tons?
Wednesday, October 20th 2010 - 00:59 UTC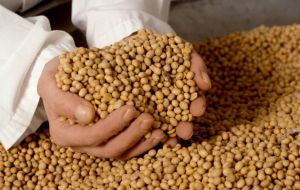 China has bought at least 70,000 tons of Argentine soybean oil after Beijing decided to unlock the imports ban that had resulted in a mounting-tension conflict. The move came after China agreed to allow all products coming from Argentina to enter its ports and was reported by Oil World magazine.
Oil World stated "China is said to have purchased a high amount of soy oil from Argentina." And added: "We are well-aware that only government-related companies are the ones allowed to buy Argentine soybean oil."
China stopped approving permits to import soybean oil from Argentina, four executives familiar with the halt said, as a trade rift widens between the biggest buyer and largest supplier of the commodity.
Oil World assured that China had "lifted the ban" due to concerns over skyrocketing oil domestic prices and forecasted new purchase are on the verge of taking place.
"We forecast Argentina will export 80,000 tons of soybean oils To China in November and 100,000 in December," the magazine foretold.
Earlier this year, the Chinese central government assumed full control for Argentine soybean oil imports from the provinces in April. The move was in response to Argentina's anti-dumping investigations on Chinese goods ranging from steel pipes to textiles, according to a Chinese state-backed trade group.