Uruguayan parliament expected to approve Unasur protocol before 2011
Friday, October 22nd 2010 - 03:20 UTC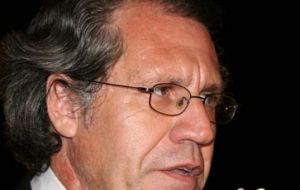 Uruguay's Foreign Affairs minister Luis Almagro trusts parliament will ratify before the end of the year the Union of South American Nations, Unasur, protocol thus formally incorporating to the regional political and defence group. Uruguay's legislative opposition does not support incorporation to Unasur.
"I would like to see the treaty ratified by the end of the year. I think it's possible", said Almagro in Montevideo during a brief meeting with the press.
"There's no turning back with Unasur; it's like denying gravity. Lately it has done a very important and effective job beginning in Bolivia with the referendum sponsored by separatist provinces, later in the border conflict between Ecuador and Colombia; later when Venezuela and Colombia, as well as with the police mutiny in Ecuador. All were issues solved with prudence by Unasur and in which it showed much muscle and energy", said the Uruguayan chancellor.
Almagro recalled that Chile recently ratified the treaty, making it the seventh country to confirm membership of the group and Brazilian congress is expected to vote on it early next year.
"Definitively it does not make sense for Uruguay to delay the issue", insisted Almagro. For the Unasur treaty to become effective nine of the twelve members must confirm it. Besides Chile, the foundation chart was voted and approved by Argentina, Bolivia, Ecuador, Guyana, Peru and Venezuela. Missing are Brazil, Uruguay, Colombia, Paraguay and Surinam, which make the rest of Unasur.
However in Uruguay the opposition is critical of the country's integration to Unasur feeling the block "does not have a reason to exist" and will only lead to further international bureaucracy and overlapping of existing organizations.
The opposition also rejects the fact that former Argentine president Nestor Kirchner, (whom they consider a declared non-friend of Uruguay) has been named Secretary General.
Although the Uruguayan ruling coalition has sufficient votes in Parliament President Jose Mujica has anticipated he wants to reach a common positions on the issue with the opposition, so the whole political arch supports Uruguayan foreign policy.