Argentine industrial production soars 9.7% in September over a year ago
Saturday, October 23rd 2010 - 03:22 UTC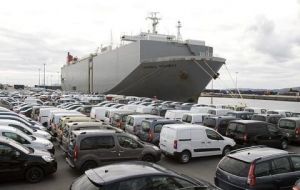 Argentina's industrial production surged in September boosted by domestic demand and strong export markets. Industrial production rose 9.7% in September from the year-ago month, and was up 1.2% from August, the national statistics agency Indec reported Friday.
Argentine industry expanded 9.5% during the first nine months of the year, compared to the same period in 2009, according to Indec.
Expansion was noted in food processing, textiles, printing, oil refining, automobile and machinery, petrochemical, and mining and metals output, while declines were observed in tobacco and paper production.
Automobile production was the most dynamic with a 38.7% increase compared to a year ago. However in the nine months of 2010 production has soared 48%, spurred both by domestic demand and exports mainly to Brazil.
Closely linked steel production increased 16.7% in September and aluminum 0.9%. Overall the steel industry in nine months of the year expanded 29.5%.
Indec said 66.1% of the firms it surveyed expect domestic demand to remain steady in the fourth quarter, while 21.8% expect demand to improve. In terms of exports, 59.2% of firms expect shipments of goods and services abroad to remain stable this quarter, and 23.5% see their export business improving.
The administration of President Cristina Fernandez de Kirchner has forecast GDP growth of about 9% this year, while the Central Bank of Argentina has said the economy might expand as much as 9.5%.
Elevated levels of economic growth have been accompanied by annual inflation that most private sector economists say is well above 20%, more than double what Indec reports.
In related news Argentina posted a wider trade surplus in September as both imports and exports grew at a fast pace amid a broad recovery in economic activity.
Argentina posted a trade surplus of 1.07 billion US dollars in September, up from 869 million a year earlier. September exports totaled 6.4 billion, up 41% on the year, while imports climbed 46% on the year to 5.3 billion.