Mujica praises a free unregulated press, even "sometimes they make you mad"
Saturday, October 23rd 2010 - 04:45 UTC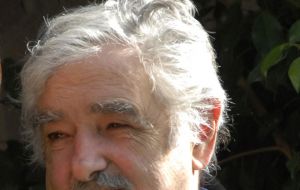 Uruguayan president Jose Mujica insisted that the best regulation for the media is no regulation, although admitting that many times he feels disappointed, when not furious with some of the articles published.
"The problem is not the press, the problem is our human condition, the press is not good or bad, the problem is man" said the head of the centre-left coalition who was elected a year ago and took office last March.
"Anyhow it's an absolutely necessary evil, indispensable, crucial, that is why we must not go around interfering with it, but sometimes they make you mad, really mad, particularly when they publish a lot of unfounded rumours", said Mujica during a tour of several cities in the interior of the country.
President Mujica statements coincide with discussions at ministerial level geared at re-drafting legislation referred to electronic communications.
This is not the first time the Uruguayan president talks about the press. In a recent interview with "Veja", the magazine with the largest circulation in Brazil Mujica said that government officials should not reply to criticism from the press but rather "endure them" because "if you react, you run the risk of a second defeat".
Mujica argued that journalists should act with "honour" so that each reader or television viewer can then interpret what he read, saw or heard, from "its won subjectivity".
He added that when a government acts with tolerance towards diversity, "it helps to build a respectful media", but if a government chooses the radical path "all goes to hell" and things can get really serious, "almost dangerous", because that way "the press becomes a battle sword".
"The more educated and qualified a population, the more diversity of opinions, which is good for democracy", pointed out Mujica.
Finally he reiterated he was point blank against any measures to control or regulate the media and appealed to the phrase "the best media bill is that which does not exist".