China, the Pope, Obama, PM Cameron, Mrs. Clinton pay homage to Kirchner
Friday, October 29th 2010 - 06:31 UTC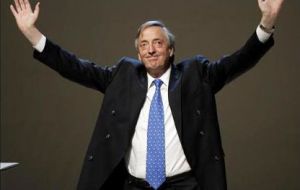 The government of the People's Republic of China expressed on Thursday the Asian nation's "sorrow for the loss of former president Néstor Kirchner."
It was the spokesman of China's Foreign Ministry, Ma Zhaoxu, who came on to stage on behalf his government and remembered Kirchner as "an extraordinary leader of Argentina and an old friend of the Chinese people."
Zhaoxu, also praised the key role that Kirchner had in the development of both nations diplomatic and commercial ties. The official also informed that the Chinese Foreign Minister, Yang Jiechi, "sent a letter of condolence to the Argentine government right after being noticed of Kirchner's death."
From the Vatican Pope Benedict XVI expressed his "profound grief and sorrow" over the death of former president Néstor Kirchner. The Pope stated his "strong prayers" were with Kirchner in his "eternal rest."
"Due to the passing away of Argentina's President Cristina Fernández de Kirchner husband Mr. Néstor Kirchner, I pray to God with gratitude for Kirchner's eternal rest and I express my profound grief for the family of the deceased and for the Argentine people," the Pope announced in a statement.
President Barack Obama offered his "sincere condolences" over the death of former president and South American Union of Nations UNASUR Secretary-General Néstor Kirchner, and stated that he had "played a very important role in Argentine politics."
"On behalf on the American people, I express my sincere condolence to the people in Argentina and to the President Cristina Fernández de Kirchner for her husband's death," Obama said in a statement issued by the White House.
"He had strongly embarked on a new challenge, that of UNASUR bloc," Obama added. "My thoughts and Michelle's are with the president and her children now," he said.
Britain's Primer Minister David Cameron also underlined the former president's contribution to Argentine politics.
"I am saddened to learn of the death of former Argentine President, Néstor Kirchner. He made an important contribution to Argentine politics and continued to play a distinguished role in the region".
"I send my deepest sympathy to his wife, Argentine President Cristina Fernández de Kirchner, and extend my condolences to the people of Argentina at this difficult time".
Secretary of State Hillary Clinton also sent her deepest condolences to the people of Argentina and President Cristina Fernandez de Kirchner on the passing of former President Nestor Kirchner.
"As President of Argentina and Secretary General of the Union of South American Nations, Nestor Kirchner was an advocate for the citizens of Argentina and a leading voice for South American integration", said Mrs Clinton in her message.
"During my visit to Buenos Aires earlier this year, President Fernandez de Kirchner and I reaffirmed the deep friendship between our countries, and as friends, the United States mourns with all Argentines. They have lost a leader and the Kirchner family has lost a beloved husband and father. Today our thoughts and prayers are with the President and her children".