Opinion polls show strong support for Cristina Kirchner's re-election bid in 2011
Sunday, October 31st 2010 - 15:47 UTC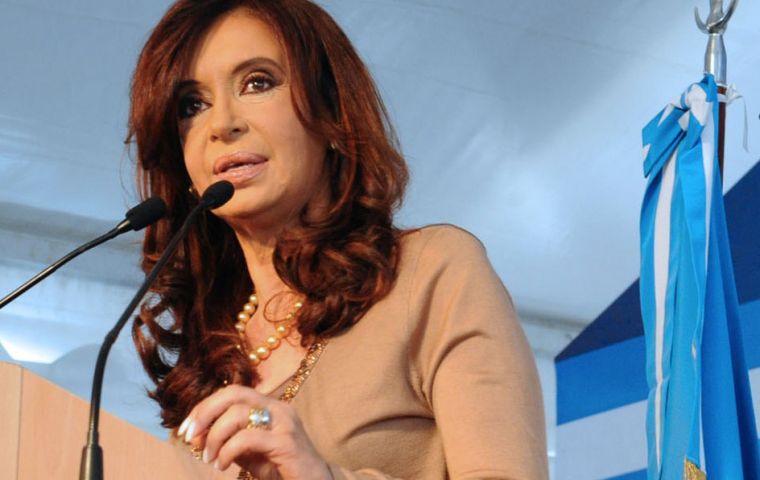 The sudden death of her husband, former president Nestor Kirchner, has contributed to strengthen the public opinion image of Argentine president Cristina Fernandez de Kirchner who is now seen as the favourite candidate for next year's general election.
Two public opinion polls released this weekend in Buenos Aires by private consultants and which were done following the ex-president's death confirm Mrs. Kirchner strong political standing and chances for a re-election bid in October 2011.
According to consultants Nueva Comunicación, if presidential elections were held now, Cristina Fernandez de Kirchner would garner 31.8% of the vote, followed by Ricardo Alfonsín from the opposition Union Civica Radical and son of former president Ricardo Alfonsin (1983/1989), with 15.9%.
The poll also showed that 43.2% of interviews are convinced that Cristina Fernandez de Kirchner will run for re-election following the death of her husband who was considered the ruling coalition's most probable candidate for next year's presidential ballot.
Five out of ten polled said that Mrs Kirchner will rapidly overcome the death of her husband and six out of ten, don't expect much changes in the government's course.
Another private consultant Opinion Publica, Servicios y Mercados, OPSM, reveals that Nestor Kirchner, who was buried on Friday following a massive turnout for his funeral both in Buenos Aires and his hometown of Rio Gallegos, received a positive image of 78%.
Another 67% of interviews consider as "probable" or "very probable" that Mrs Kirchner will be capable of "deepening" the current political-economic model in spite of the absence of her husband considered a crucial pillar of her administration.
According to OPSM, when asked who they would vote in 2011, Mrs. Kirchner was supported by 35.7% followed by Buenos Aires conservative mayor Mauricio Macri with 19.4% and Ricardo Alfonsín, 16.3%.
In the event of different run-off scenarios with Mrs. Kirchner facing other opposition candidates, in all cases she would come ahead by a comfortable margin.
Cristina Fernandez would defeat Vice-president Julio Cobos (who have split since a crucial vote in mid-2008) with 45.3% of the vote. If the contender was Mayor Macri she would have 48.3% of the vote and against Alfonsin, 51.8%.