Sunflower comeback in Argentina: planted area forecasted to increase 24%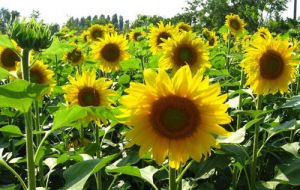 The area sown with sunflower in Argentina is forecasted to increase 24% this coming 2010/11 season reaching 1.62 million hectares according to Argentina's Sunflower Association (Asagir) and based on data from the Buenos Aires Cereals market.
Soaring oil prices, at their peak since 2008, are behind the new boost which puts an end to a declining sunflower cycle which last season 2009/10 involved 1.2 million hectares and just over two million tons.
"Oil in Rotterdam is selling at 1.300 US dollars the ton and for April-June next year, 1.330 USD. Oil prices have been growing sustainedly", according to a report from Jorge Ingaramo, advisor to Asagir
The report also points out that the Argentine Agriculture ministry FOB export price for sunflower oil was fixed at 1.250 US dollars, "which is in the range of Rotterdam values and 58% higher than in 2009".
This in practical terms means that Argentine farmers are making 310 US dollars a ton and 340 US dollars by next March, according to Ingamaro.
The new planting intention represents the equivalent of 2.7 to 2.8 million tons of sunflower seed, which is considerably better than last year, but distant from other seasons such as 2007/08 when the crop volume was 4.6 million tons.
"Sunflower intention had a strong recovery following the drought news from Russia and neighbouring countries that are major players in that market. This besides the currencies war, which with a weak US dollar increases the purchasing power of food importing countries and naturally demand increases", argues Ernesto Ambrosetti, an economist from the Argentine Rural Society.
"A weak dollar influences the price of soybeans, and other grains including sunflower.
And in this context a weaker supply from the former Soviet republics suffering from a drought is also having an impact" according to Ricardo Baccarin from Panagricola.
Only a month ago Asagir and the oil industry called on Argentine farmers to return to sunflower to recover production volumes. But with the persistent manipulation of grain and oil seed markets and prices by the Kirchner government "there are strong doubts lingering".
"In spite of the lack of transparency in the sunflower market, the current price is a good incentive to increase the area planted that has been dropping for several years now", points out Ambrosetti.
He adds that one of the advantages of sunflower is that it admits 'medium quality' volumes which are not possible with corn or soy.