Peruvian ruling party nominates woman candidate for presidential election
Wednesday, November 3rd 2010 - 23:55 UTC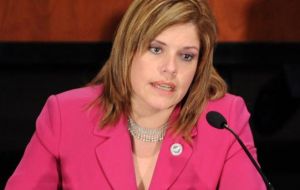 Peru's former Finance Minister Mercedes Araoz said she will run for president next year as a candidate for President Alan Garcia's Apra party. The independent candidate was proclaimed this week as presidential candidate by Apra's Executive Committee and thus joins the growing rank of women presidents and candidates in the region.
"One must seek a balance between economic coherence and public policies to make sure more people enjoy the benefits of that growth" Araoz said Wednesday in an interview on Radioprogramas. "I've always been in the center, where one doesn't believe the market can solve everything and where there's proper state intervention".
Araoz thanked publicly the "honor" of having been nominated Apra's candidate and admitted it was not an easy decision, but finally she accepted because as an independent "I can bring new, fresh ideas to the electoral campaign and attract non-party voters".
The former minister said she would toil for "a middle classes country" which must be achieved "not by taking from some to give to others, but rather creating wealth and then redistributing".
Peruvian presidential elections are scheduled for next April.
Former Prime minister Javier Velásquez Quesquén, also considered a presidential hopeful said that the nomination of Aráoz means a "change of strategy for the ruling Apra party: from a militant candidate to an independent candidate"
Araoz, 49, who holds a Master's in economics from the University of Miami, resigned in September after spending four years in Garcia's Cabinet, leading the trade and production ministries. During her eight-month tenure as Finance minister, Araoz managed a 3 billion US dollars fiscal stimulus package that put South America's sixth-biggest economy on course to expand as much as 8% this year, according to the central bank.
Standard & Poor's in August revised its outlook on Peru's foreign currency rating to positive from stable after Araoz sold 334 million of Sol-denominated February 2042 bonds to help finance a 415 million buyback. S&P also affirmed Peru's BBB- long-term foreign currency and BBB+ long-term local currency sovereign ratings.