Germany blasts latest US Fed Reserve plan to pump more money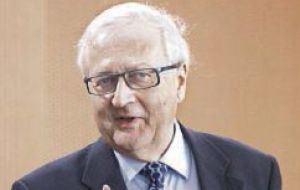 German Economy Minister Rainer Brüederle from the liberal FDP blasted the United States monetary expansive policy which is geared to prop the declining US economy with strong liquidity injections.
Brüederle said he was "highly concerned" about the US Federal Reserve strategy which this week announced a second stimulus plan to purchase US securities to the tone of 900 billion US dollars (600 billion fresh funds and 300 billion recovered from other interventions).
"It's not enough to pump water. You need horses to drink the water" said the German Economy minister during a conference in Berlin where he outlined a five points program to bolster Germany's manufacturing sector.
Brüederle said that the new inflow of dollars into the system will necessarily depreciate the greenback vis-à-vis the main international currencies, thus altering the natural fluctuation of currencies as a reflex of the economies which sustain them.
The German official said that the Chinese and US currencies do not represent their macroeconomic scenarios, compared to Germany and therefore to the Euro-zone.
"This situation is artificially strengthening the Euro, which was exchanging in Frankfort Thursday at 1.42 US dollars, clearly harming German exports", said the minister.
The latest Fed decision, or QE2, is directed to purchase US Treasury bonds at the rate of 75 billion US dollars per month until June 2011.