Argentina unemployment drops to 7.6% in third quarter from 9.1% a year ago
Friday, November 5th 2010 - 22:38 UTC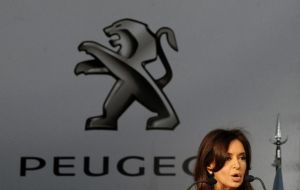 Argentina's unemployment rate fell to 7.6% in the third quarter of this year from 9.1% percent in the same period of 2009 as the economy rebounded, President Cristina Fernandez said on Friday.
"We managed to continue reducing the unemployment rate, as it has reached 7.6% this month, a significant difference with the same period last year, when it stood at 9.1%" said Mrs Kirchner during the presentation of a new car model built entirely in Argentina.
Unemployment has fallen as Latin America's No. 3 economy recovers from the impact of last year's global economic crisis. The government foresees growth of about 9% in 2010.
Argentina's jobless rate fell to 7.9% in the second quarter from 8.8% in the same period of 2009, government's statistics agency said in August.
Private economists accuse the government of releasing overly optimistic data on unemployment, economic growth and industrial output for political gain, while at the same time under-reporting inflation.
Cristina Fernandez's government has denied any tampering with official statistics
The Argentine president highly praised the work being done in the car production industry, as she unveiled a new "challenge:" to integrate the technological and computer fields in the car industry. "We are working to turn Argentina into one of the seven countries with the highest level of car production," she stated.
The Head of State concluded her speech by stating she took pride in "the growth the (automobile) sector is seeing, as it used to have approximately 500 Argentine workers and now it bears more than 5,000."