Brazil surpasses US as second-largest consumer of Chilean salmon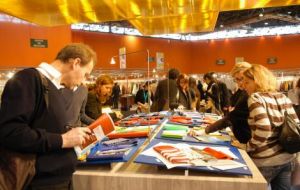 Growing at a rate of 7 to 8% annually, Brazil's booming economy is becoming an important market for key Chilean exports.
In the first eight months of this year, Brazil replaced the United States as the second-largest global consumer of Chilean salmon, while the country has also boosted its consumption of Chilean products such as wine, copper and walnuts.
According to figures presented by SalmonChile, from January to August this year, salmon exports from Chile to Brazil were topped only by sales to Japan. The figures surpassed exports to the United States, which fell even further, from 53,000 tons to 24,000 tons during the same period last year.
Chile's Salmon industry experts attribute Brazil's stable salmon market partially to its large Japanese community, as well as to the economic growth the country is experiencing.
In terms of value, however, the U.S. still remains in second place, with salmon shipments to the country valued at US$239 million in the first eight months of the year, a value 49% higher than shipments to Brazil.
Brazil's secondary position as an importer based on value of shipments is explained because Chilean salmon was sold at an average of US$10,800 per ton to the US, but only US$6,300 to Brazil.
Despite lower prices, industry executives say Brazil will be a good export alternative, because its close proximity to Chile lowers transportation and logistics costs. Cutting costs in these areas is important to the Chilean salmon industry because of the cost of safety measures it must implement to prevent viruses or other health risks from weakening the industry.
Brazil is increasingly consuming other Chilean products as well. From September 2009 to August 2010, Brazil became the third biggest consumer of Chilean wine, making it the top consumer in Latin America, behind only the U.S. and the United Kingdom.
Brazil has also become a top destination for copper wire shipments, and the largest market for refined copper tubes and walnuts. (Santiago Times)