Colombia, Chile and Peru launch integrated stock markets November 22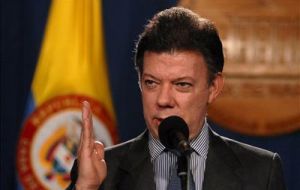 Colombia approved Friday the integration of the Colombian stock exchange with those of Chile and Peru opening the way for the start of joint operations next November 22.
A release from Government House said that "President Juan Manuel Santos and Finance minister Juan Carlos Etcheverry signed a decree making viable the integration of the Chile, Colombia and Peru's equity markets.
The government also revealed that next Tuesday and Wednesday representatives from the three stock exchanges and government officials would be meeting in Lima to make the official announcement of the integrated market.
During a forum organized by Spanish bank BBVA in Bogotá, experts from the three countries involved said that the markets' integration "would help increase the volume of operations four or five times, making it the second most important stock exchange in Latinamerica behind Brazil's Bovespa".
BBVA said that the experience of markets' integration at international level has been "highly positive". In other markets such as Europe the integration of stock exchanges enabled that in nine years operations increased fivefold, while in the Scandinavian countries the expansion was fourfold in six years.
In the case of Colombia, Peru and Chile, BBVA estimates that transaction levels could increase by four times in the next five years.
Daily operations in the three markets total on average 250 million US dollars according to Peruvian Foreign Trade and Tourism minister Eduardo Ferreyros who will be hosting the meeting next week in Lima.