Unasur presidential summit in Guyana November 26
Friday, November 5th 2010 - 23:47 UTC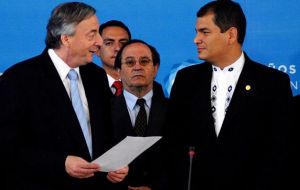 Colombia, Brazil, Paraguay and Uruguay have still to ratify the founding charter and constitution of the Union of South American Nations, Unasur, which needs an additional vote to become legally effective.
The Ecuadorean Foreign Affairs ministry which holds the "pro tempore" presidency of Unasur said that with the ratification by Surinam, Unasur now has eight members that have consolidated the ambitious political and defence initiative: Argentina, Bolivia, Chile, Ecuador, Guyana, Peru and Venezuela.
Ecuador said it would like to have nine countries ratify the founding charter so that the regional organization can have legal force by November 26 when Quito will be handing the presidency of Unasur to Guyana.
On that day in Guyana's capital Georgetown, Unasur created 23 May 2008 in Brasilia, will be holding a presidential summit.
The summit is also expected to consider names for Secretary General of Unasur, following the recent death of former Argentine president Nestor Kirchner who was the first person to hold the post.
Among names under consideration are three former presidents: Michelle Bachelet from Chile, Tabare Vazquez from Uruguay, and Brazil's Lula da Silva who steps down next January first.
No decision is expected at Georgetown since the nomination demands a long consensus process