Argentina anticipates record crop and export surpluses of wheat and corn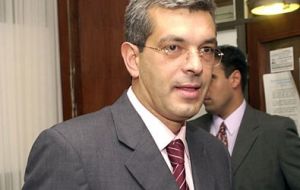 Argentina's Agriculture and Livestock minister Julian Domínguez and representatives from the cereals and oilseed markets coincided that Argentina will have a record crop this 2010/11 season and considerable export surplus of wheat and corn: 5.5 million and 18.5 million tons respectively.
The announcement was done by Minister Dominguez to markets' representatives as a first step towards institutionalizing a system of agriculture estimates to be jointly elaborated by the ministry, cereals and oilseeds markets, provincial ministries and the different Agriculture Schools in the country.
"We presented the president the latest data and conditions of the historic record crop for the season 2010/11, which should reach 103 million tons", said Dominguez, who added that in a context of increasing international prices for grains and oilseeds "we are planning a minimum export surplus of 5.5 million tons of wheat, taking into account forecasts that anticipate a record crop of 13 to 14 million tons according to the most conservative estimates".
Regarding corn and following on statistics, "the crop is estimated in 26 million tons and as with wheat we are planning an export surplus of 18.5 million tons", said Dominguez.
According to the latest estimates the Argentine crop this season will include 1.6 million tons of rice; 1.7 million tons of beer barley; 4.15 million tons of sorghum; 2.5 million tons of sunflower; 52 million tons of soybeans, plus the already anticipated 26 million tons of corn and 13 million tons of wheat.
The minister also announced at the meeting that his Chinese counterpart Du Qinglin will be arriving this week to Argentina to sign several bilateral agreements, basically opening the huge Asian market to beef, wine, barely and dairy produce to Argentine exports.
The Chinese official will be meeting with Cereal markets representatives in Rosario, Buenos Aires and will later travel to the south of Argentina. On Monday November 15 he is scheduled to be received by President Cristina Fernandez de Kirchner.