Venezuelan military would "not accept" an elected opposition government
Monday, November 8th 2010 - 16:29 UTC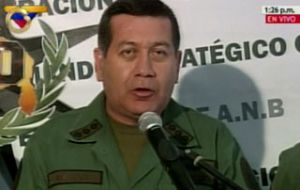 A top Venezuelan military commander said that the National Bolivarian Armed Force is committed to President Hugo Chavez and his Socialist project, therefore if in the coming elections the opposition wins "it will not be accepted because they would sell the country".
The hypothesis of an "opposition government is hard to swallow, it would mean selling the country, and that is not going to be accepted, not by the Armed Force and much less by the people", said Major General Henry Rangel Silva, head of the Operational Strategic Command in a interview published Monday in the Caracas daily, Ultimas Noticias.
Rangel Silva claimed that the Venezuelan opposition acts "with the support of third countries", which affects "nationalism" and this is something the military would not accept.
The top military officer accused the political sectors that oppose President Chavez revolution of keeping an "agenda of attacks" against the Bolivarian Armed Force and also against some of its leaders which they are trying to remove because they are an "inconvenient" to their alleged international interests.
"Those attacks are in the opposition's agenda. The Armed Forces historically have been used in Venezuela to overturn and oust governments", said Rangel Silva who added that "the National Bolivarian Armed Force has no half loyalties but complete loyalty with the people, a project of life and development, and with the Commander in Chief (President of the Republic). We are married to that project of country…"
Last week President Chavez said that if the opposition manages to win the election in 2012, he "would be unable to contain a violent revolution".
"They (the opposition) would try to sack from the Armed Force all those who support Chavez and they would only achieve having the military up in arms", warned President Chavez during a recent "Aló President" program aired by radio and television to the whole country.
The opposition alliance under the umbrella of the Democratic Union Table, (MUD) rejected the presidential claims which were described as "irresponsible" and "non respectful" towards the Venezuelan armed forces, and a further attempt "to scare Venezuelan society".
"MUD policy has been at all times respect for article 328 of the Constitution which states that the National Armed Force is an institution essentially professional, with no political militancy, organized by the State to guarantee the independence and sovereignty of the nation", pointed out the opposition alliance in an official release.
MUD which brings together twenty odd political groups and forces in last September's legislative elections obtained 65 seats in the National Assembly thus ending the government's hegemony which retained a majority (99) but unable to confirm the two thirds it enjoyed since 2005.
That year the government captured all seats since at last minute the opposition walked out alleging irregularities in the electoral process.