Gold soars to new record; up 7% in the last week, 29% in 2010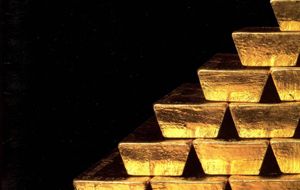 The price of gold has hit another record high as investors worry about inflation and Europe's budget troubles. Tuesday morning it was trading at $1,421 an ounce.
The price has now risen by 7% since the US central bank announced last week its plan to inject 600 billion US dollars into the American economy.
Investors worry this will lead to higher inflation, and are also concerned about the state of the Irish Republic's economy as it tries to cut its budget deficit. Gold is traditionally seen as a haven for investors at times of economic stress.
Some economists say higher inflation could be on the way after the US Federal Reserve's decision to effectively print huge sums of money to try to stimulate the economy.
The move has also been criticised by other countries, which fear large inflows of money into their stock and property markets, which can be destabilising.
As well as this, there are renewed questions about the stability of one of Europe's economies.
The Irish Republic is struggling to convince the bond markets that it does not need financial help from the European Union or the International Monetary Fund.
Dublin will soon unveil its new budget as it tries to cut its deficit from a huge 32%, but there is mounting concern it may not be approved by the Irish parliament, the Dail.
The price of gold has risen by 29% this year. Meanwhile, the price of silver has risen to $28 an ounce, its highest level since March 1980. (BBC).-