Argentina squid landings up 14.9% compared to Jan-Oct 2009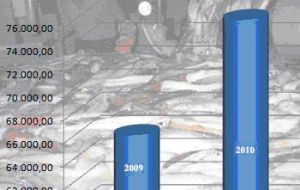 Fisheries landings in Argentine ports totalled 594,949.9 ton inn the first ten months of 2010, which is 3.1% higher than in the same period a year ago, when landings reached 576,623.7 tons. The slight increase was due largely to improved catches of squid (Illex argentinus).
Of total landings, 451,193.2 tons were fish; 82.968.8 tons molluscs and 60,787.9 tons of crustaceans, according to statistics released by the Sub Secretariat of Fisheries and Aquaculture.
Top of the list was hake (Merluccius hubbsi) with 227,405.7 tons, which represents a rise of 9.7% over the 207,172.5 tons landed until 30 October 2009. Second best was squid with 75,831.9 tons, 14.9% more than in the first ten months of 2009, when landings totalled 65,983.4 tons.
Other significant landings: hoki (Macruronus magellanicus), 62,057.7 tons; haddock (Genypterus blacodes) 4,353.5 tons; stingray (Potamotrygon brachyura), 13,871.1 tons and croaker (Micropogonias furnieri) 12,660.8 tons.
Long-tail hake (Cynoscion striatus) 10,818.3 tons; 6397.1 tons of smooth-hound (Mustelus schmitti); 5,644.1 tons of southern cod (Salilota australis); 5,154.6 tons of flounder (Paralichthys patagonicus) and 4043.9 tonnes of porgy (Pagrus pagrus).
Regarding shellfish, 6,664.5 tons of scallops (Zygochlamys patagonica) were landed, and crustaceans: 60,510.3 tons of shrimp (Pleoticus muelleri).
Mar del Plata (Buenos Aires province) continues to retain leadership in Argentine fisheries landings with 343,788.9 tons in the ten month period. Puerto Madryn (Chubut) ranked second, with 92,918 tons; Ushuaia (Tierra del Fuego), with 72,812 tons; Puerto Deseado (Santa Cruz), 33,900.8 tons; San Antonio East (Río Negro), 11,797.8 tons, and Caleta Olivia/Paula (Santa Cruz), 9,096.7 tons.
The fleet with the highest level of catch in the ten month period was that of fresh fish vessels with 204,500.9 tons. Ranked behind were trawlers with 159,382.1 tons; coastal vessels with 68,292.4 tons; Argentine flagged jiggers with 65,506.3 tons and beam trawler vessels with 49,865 tonnes, among others. (FIS/MP).-