China resists becoming the locomotive for the world economy, says IMF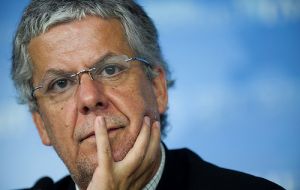 China is resisting pressure to become a locomotive to pull the floundering US economy out of its hole, notably by stubbornly pegging its Yuan to the dollar, a senior IMF official said on Tuesday.
Right now, the booming economies of emerging markets Brazil, India and China are like 'rockets' being fuelled by US and European investor inflows, Nicolas Eyzaguirre, the head of the IMF Western Hemisphere Department, told a business conference in Sao Paulo.
In return, slumping developed countries are trying 'to attach ropes to those rockets to drag themselves out' of their low-growth situations, he told the event, hosted by Britain's magazine The Economist.
But 'China is avoiding being caught by the rope,' Mr Eyzaguirre said, pointing specifically to Beijing's policy of keeping its currency in line with the sliding US dollar.
The currency issue is the headline topic of a G-20 summit in South Korea later this week.
Brazil has voiced the anger felt by several countries over a 'currency war' seen being waged between the United States and China, in which their monies are being devalued to secure an export advantage at the expense of other nations.
"Everybody knows that there's a currencies war on. The devaluation of the Chinese currency and the US dollar is generating a serious misbalance in world trade and we need to recover that equilibrium", said Brazilian president Lula da Silva before leaving for Korea.
"We want to discuss a commitment from all countries with a foreign exchange policy that makes everybody feel it can be trusted and in equal conditions in trade issues", added the Brazilian leader who will be accompanied in Seoul by president-elect Dilma Rousseff.
So far Brazil has rejected the possibility of "artificially" devaluating its currency to recover competitiveness and has strongly defended a free floating exchange rate. It has limited action to tax foreign capital inflows into fixed income assets to try and limit speculative short term money.
Lula da Silva said that many countries still have to recover from the 2008 downturn and much depends on international trade, therefore the need to eliminate trade barriers and collateral impediments such as the currencies devaluation.
The Brazilian leader also underlined that another major issue in the G20 Korea agenda is adopting instruments to control the global financial system.
"Following the irresponsibility of 2008, the financial system can't continue with out controls. The least we need is a multilateral mechanism that can audit the financial system to prevent massive speculation, such as happened with real estate market in the US and in the futures commodities markets".