ISA virus outbreak detected on salmon farm in southern Chile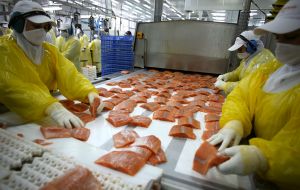 SERNAPESCA, Chile's national marine fisheries service, has declared an Infectious Salmon Anemia (ISA) outbreak on a salmon farm in the Magallanes Region (XII).
The virus was detected Tuesday while authorities performed a mortality rate inspection at the Perales Bay Centre, operated by Salmones Magallanes – one of eight salmon farms in the region. Two other farms in the region produce trout.
The farm, owned by the Gálmez family, has violated regulations on several occasions in the past. SERNAPESCA instructed the farm to immediately dispose of the contaminated fish in accordance with bio-security measures.
The farm has 15 days to comply with the orders and will be monitored by officials, who will ensure proper procedures are followed.
The situation strikes a haunting chord in an industry which is still recovering – but recovering fairly well – from the devastating blow of a previous ISA breakout between 2007 and 2008.
While the aquaculture industry in Chile lost US$2 billion from 2007 to 2009 because of the outbreak, it has been improving as fishing unions and authorities boost health measures, and investments are poured into the industry to help sustain its businesses.
Salmon mortality rates have improved as well.
"Before, the ISA virus had an average mortality of 20% to 25%", SalmonChile Vice-President José Gago told the newspaper El Mercurio in an interview last weekend. "During the illness, 40% to 50% of the hatcheries died. Today we are below 10% on average".
Although the industry is recovering alongside the rapidly improving Chilean economy, the damage caused by the ISA virus still has negative effects.
This year's projected returns for Chile's salmon exports are US$1.4 billion, a massive drop from previous years, leaving room for competitors to capitalize on Chile's ISA fallout.
Norway is doing exactly that, as it has experienced record-breaking fish exports of US$7.7 billion thus far in 2010, already passing totals for 2009.
Norway is Chile's largest competitor in the aquaculture business. In the coming years, it will be important for Chile's industry to maintain its stability and avoid disruptions such as ISA outbreaks to gain back export losses.
By Dustin Zarnikow - Santigo Times