Uruguay and Argentina implement "scientific" accord for joint monitoring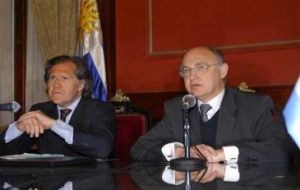 Uruguay and Argentina announced they had reached a final "scientific" agreement for the joint environmental monitoring of the UPM-Botnia pulp mill in shared waters and which delaying the implementation of a bilateral agreement.
Following ten hours of discussions in Uruguay's Foreign Affairs Office, Minister Luis Almagro and his Argentine counterpart Hector Timerman late Sunday evening said the agreement includes twelve tests per annum inside the mill on Uruguayan soil as well as special sensors to be displayed in the adjoining area. One of them is twelve buoys with "accumulative" clam cages.
In a brief conference Almagro described the basis for the understanding with Argentina "as very sound" and Timermann underlined the "scientific" aspects of the deal.
"We have achieved a monitoring plan for the River Uruguay which is most positive for both sides", said Almagro.
Timerman said it was "a good technical agreement which leaves both governments satisfied". He also downplayed what the said "had been press-blown up alleged differences" previous to the meeting.
"We (the ministers) joined the scientific teams' discussions to facilitate and make dialogue more dynamic. That's all", said Timerman.
Some of the controls at the pulp mill plant in Fray Bentos will begin "immediately," according to both of the ministries and some analyses' results would be ready in about a week or so.
Argentina and Uruguay will choose an international laboratory (most probably from Canada) that will be in charge of analyzing the samples extracted from the plant and from the nearby areas.
The next step is for the agreement to be presented to the River Uruguay Administrative Commission, CARU (with members from both countries) "so they are informed of what is to be implemented".
"Caring for the environment is not a problem of nationalisms and it's not for a country to feel safer: when there's contamination, both countries are contaminated. If the pulp mill does not contaminate, none of the two countries are contaminated" underlined Timerman who added that "the understanding puts an end to the controversy".
The joint environment monitoring program of the river Uruguay should have been finished and ready for implementation last November 2, in the framework of the overall agreement reached between Presidents Jose Mujica and Cristina Fernandez de Kirchner which ended the six year dispute over the construction of pulp mills along the shared river.
However differences of interpretation between both sides and the scientific teams that have to apply them forced an extraordinary Sunday meeting, which according to both sides has been successful.