Italy's Eni to invest 7 billion USD in developing Venezuela's oil and gas reserves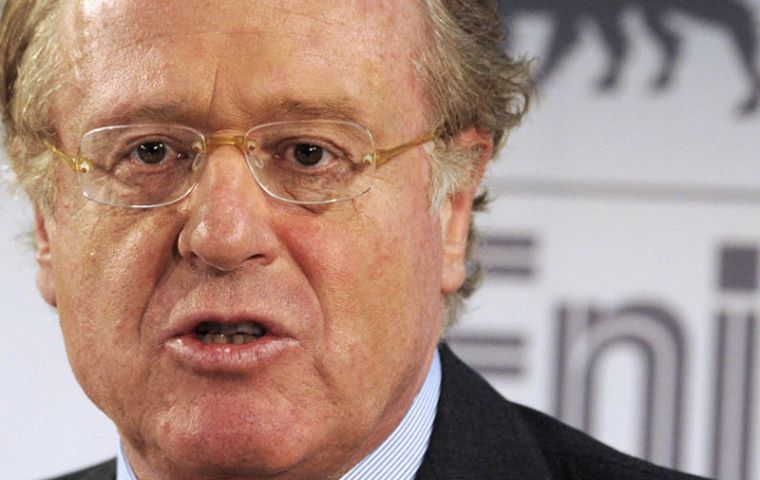 Petroleos de Venezuela SA and Italy's Eni SpA said they'll jointly invest 17 billion US dollars to produce and refine heavy crude in the Orinoco Belt.
The Petrojunin venture will pump as much as 240,000 barrels a day in the Junin 5 block of the Orinoco and the Petrobicentenaria venture will build a 350,000-barrel-a-day refinery to produce mainly diesel for European markets, PDVSA President Rafael Ramirez said Monday at a ceremony in Caracas. PDVSA will hold 60% percent stakes in the ventures, he said.
"We've signed the framework to increase our production in Venezuela in an important way," Paolo Scaroni, chief executive officer of Eni, said today in Caracas. "We're ready to invest 7 billion in these projects and this will be one of the most important countries for our company."
President Hugo Chavez has signed ventures with oil companies from Vietnam to Russia to tap heavy crude deposits that may place the South American country ahead of Saudi Arabia in terms of reserves. Venezuela expects joint investments of more than 80 billion US dollars in the Orinoco Belt to boost production by 2 million barrels a day by 2015.
PDVSA awarded minority stakes in joint ventures to groups of companies led by Repsol YPF SA and Chevron Corp. this year in the Orinoco Belt. Venezuela is the largest oil producer in South America.
Eni is also working with PDVSA to develop the Perla offshore gas field that may hold 15 trillion cubic feet of gas, Scaroni said. The company will pay a 600 million fee to the government to access the crude reserves and lend the country 2 billion to build a 900 megawatt power plant in Guiria, Scaroni said.
Eni will invest about 7 billion of the 17 billion US dollars estimated cost of developing the two ventures, Scaroni said. The refinery should be ready by 2016.
"This will be the first refinery built since the 1950s in Venezuela," Ramirez said. "We're diversifying our markets and looking towards future oil production".