Promoting trade and political links with Africa, Lula da Silva's next job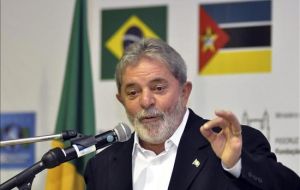 A Lula da Silva Institute will be fully involved in Africa, the world's poorest continent, and (Brazilian) President Lula will be fully dedicated to that task when he steps down from office next January first, announced a top Brazilian official.
"One of the first decisions to be adopted is renting a building from where the Lula da Silva Institute will operate in Ibirapuera, Sao Paulo", said Gilberto Carvlho, head of the presidential cabinet.
"The idea is to later purchase the building which will be used both as a memorial and a political discussion think-tank", added Carvalho.
The Brazilian president close advisor said that "at home, Lula da Silva's task will be to help with the political reforms the country needs. Overseas his target is helping Africa".
Carvalho revealed that Lula da Silva's plans in Africa, after eight years in government, and which were informed to the Vatican "received a very warm reception and endorsement from the Holy See".
Lula da Silva steps down from office after being the Brazilian president who most travelled and visited Africa. Twelve trips in eight years according to Foreign Affairs minister Celso Amorim who added that the African continent has become Brazil's fourth trade partner behind China, Argentina and the United States.
The last four years of Brazilian foreign policy have been signalled by the opening of embassies in African countries and a routine queue of African presidents' visits to Brasilia, the latest Zambia's leader Rupiah Bwezani Banda.
Brazil also established an agriculture desk in Ghana to promote farming in Africa; ethanol projects in Senegal, Zimbabwe and Tanzania and has been sending on a regular basis food and medicines to some of the countries most afflicted by conflicts including Somalia.
Lula da Silva's last African presidential trip was to Mozambique where he opened a factory of pharmaceutical generics.
Carvalho said that investing in Africa is not only humanitarian for Brazilian interests. With 53 countries the continent is crucial to determine votes in the event of electing future members of an expanded United Nations Security Council, one of Brazil's main foreign policy goals.
Furthermore with still untapped vast mineral and hydrocarbons resources the African continent is also a profitable promise for large Brazilian corporations such as Petrobras and Vale Doce (iron).