US on the path of Japan's stagflation of 18 years ago, says Nobel Prize
Wednesday, November 24th 2010 - 20:55 UTC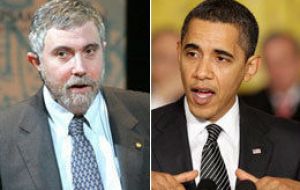 Economics 2008 Nobel Prize Paul Krugman said the United States is heading along a path of stagnation and deflation similar to that of Japan 18 years ago given the critical economic situation and the uncertain political scenario following the recent mid term elections that brought to Congress diehard Republicans.
"We are in a very Japanese scenario in the United States" said Krugman during a conference at the annual convention of the Argentine Chamber of Construction in Buenos Aires.
The Nobel Prize said that monetary policy applied both in United States and in the European Union reflects its own limits and the Federal Reserve and the European Central Bank have lowered interest rates to zero but have been unable to re-launch their economies and are "with great difficulties in finding a solution".
Krugman argued that the only possible way is through expenditure in infrastructure, with low interest rates, which can create millions of jobs for the unemployed, but admitted that Washington refuses "to confront such public expenditure".
He mentioned as an example of this reticence the recent cancelling of a major public works infrastructure in the US, the construction of a train tunnel below the River Hudson in New York.
"This economic slowdown, this depression can continue for a long time…It's a crisis of the North Atlantic, of United States and Western Europe", he added.
Krugman said that to the economic crisis must be added now the "political paralysis of a US government which is divided and President Barack Obama "with no cooperation capacity" from an adverse Congress following the loss of the majority in the recent mid term elections.