First possible suspected case of "mad cow" in humans sounds alarm bells in Brazil
Thursday, November 25th 2010 - 04:29 UTC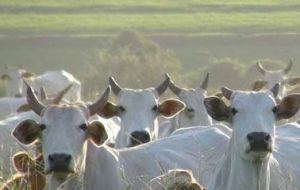 Brazilian health officials said this week that a suspected case of Creutzfeldt-Jakob disease, a fatal illness that destroys brain tissue, probably wasn't caused by eating beef of an animal infected with the mad cow sickness.
"The occurrence of Creutzfeldt-Jakob from beef consumption is highly unlikely" Jose Saraiva, health secretary for the city of Campinas, which was notified of the case on Nov. 12, told reporters. "This possibility has almost been ruled out."
Health officials in Campinas, in Sao Paulo state, said they were investigating a possible case of variant Creutzfeldt-Jakob, which would be the first ever in Brazil. The variant of the incurable human illness has been linked to eating meat from animals infected with bovine spongiform encephalopathy, known as BSE or mad cow.
Brazil is the world's largest beef exporter. JBS SA, the world's largest meat-processing company, said Brazil has never had a case of mad cow.
"Brazilian beef is healthy," the Sao Paulo-based company said in a statement. "It's important to remember this is an initial diagnosis and cannot be confirmed."
Campinas's health department will have a definitive diagnosis in 15 days, Saraiva said.
At least 139 people worldwide have died from variant Creutzfeldt-Jakob, according to the World Health Organization's website. Most of the deaths were in the U.K.
Brazil's beef exports totalled 4.12 billion US dollars in 2009, according to the Ministry's of Agriculture website.
Meanwhile in Chile a suspicious possible case of Creutzfeld-Jacob disease has been under close medical attention and sanitary monitoring.
According to El Mercurio, Valparaíso a 50 year old person, apparently suffering from Creutzfeldt-Jacob disease has been hospitalized since last August 30.
"All kinds of tests and treatments in line with his clinical condition have been undertaken and ICU specialists and neurologists are monitoring the case", said an official report.
"Unfortunately the patient is in a terminal condition, which has been communicated to his next of kin, and in spite of the seriousness of the diagnosis, the presence of the patient in the hospital does not require any special isolation for his treatment".
The Valparaiso hospital underlined that the case is still described as "suspicious" and any BSE or mad cow diagnosis can only be confirmed with an autopsy.