World corn production slightly lower; lowest inventory in four years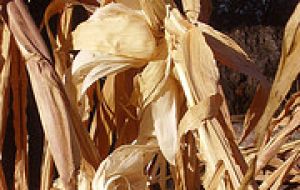 World corn production will be 0.5% lower than forecast last month as reduced U.S. and Brazilian crops result in smaller-than-estimated inventories, the International Grains Council reported on Thursday.
The global crop will be 810 million metric tons, below last month's 814 million-ton forecast, when the current marketing year ends on June 30, the London-based council said in an e-mailed statement. Hot weather in August, during a key stage of the U.S. growing season, seared fields in the world's biggest corn exporter.
World corn inventories will probably total 121 million tons at the year's end, 4 million tons less than predicted last month, which would be the lowest in four years, the IGC said. World corn demand will outstrip production by 30 million tons, reducing stockpiles for a second year, it said.
Overall grain output may total 1.725 billion tons, down 0.3% from last month's estimate, the IGC said. Consumption may be 1.786 billion tons, it said. Stockpiles will total 340 million tons, 1.4% below last month's estimate, according to the council.
The group left its wheat-production forecast unchanged at 644 million tons, while raising the consumption estimate by 2 million tons to 660 million tons. Stockpiles will total 180 million tons, down 1 million tons from October's estimate, it said.