Lula da Silva promises energy, communications and trade aid for Guyana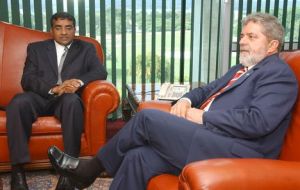 Brazilian President Lula da Silva announced Friday an ambitious integration program for its northern neighbor Guyana, on the sidelines of a regional presidential summit taking place in Georgetown.
The two countries signed a memorandum of understanding to build a hydroelectric power plant on the border with Guyana. President Lula da Silva said Eletricas do Norte do Brasil SA will be responsible for the management of the investment. The exact location of the dam has yet to be agreed.
Lula da Silva made this and other announcements during a speech in Georgetown, Guyana.
The Brazilian president also said an optical fiber network has reached the Brazilian border with its northern neighbor to integrate the two countries with broadband communication and promised government support for Brazilian companies to build a road connecting the nations.
Latin America's largest economy will also grant tax breaks to 'a list of products' from Guyana, Lula da Silva said, without elaborating.
The Brazilian president said he expects Guyana to act as a "bridge" between South America and the Caribbean, helping in the negotiations between the Mercosur and the Caricom regions.
Lula da Silva made his remarks at the Unasur (Union of South American Nations) summit of presidents and foreign affairs where Guyana President Bharrat Jagdeo awarded his Brazilian counterpart the Order of Excellence, the highest distinction in Guyana for a head of state.