BP sells Argentina's Bridas to Bulgheroni family and Chinese corporation
Monday, November 29th 2010 - 22:25 UTC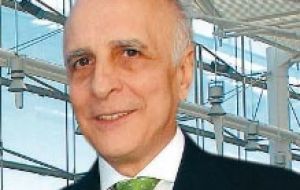 British Petroleum reached an agreement to sell its 60% stake in an Argentine oil and gas company to its joint-venture partner Bridas, which is owned in equal parts by China's CNOOC, China's Natioonal Offshore Oil Company and the prominent Bulgheroni family of Argentina.
After an explosion last April at BP's Macondo well aboard the Deepwater Horizon platform in the Gulf of Mexico led to the worst oil spill in U.S. history BP pledged to raise approximately 30 billion USD by mid-2011 to help pay the cleanup costs.
On Sunday, the British oil compnay announced that it reached an agreement to sell its part of Pan American Energy to Bridas Corporation for 7 billion US dollars.
Pan American Energy is an oil and gas company operating mainly in Argentina. Having increased production by 70% since 2001, the Cerro Dragon field in southern Argentina is Pan American Energy's most productive well. BP's 60% stake represents approximately 917 million barrels of oil equivalent (BOE), and a net production of 143,000 BOE per day.
The acquisition will be made by BP's joint-venture partner, Bridas Corporation, which is itself a joint-venture between Argentine tycoon Carlos Bulgheroni and CNOOC, China's state-owned oil company.
Bridas was involved in the Trans-Afghanistan Gas Pipeline, with CEO Carlos Bulgheroni personally negotiating deals with the Taliban in the mid-nineties. Bulgheroni outsmarted Unocal, which was competing for the bid and sued Bridas, but the company, led by Chairman Alejandro Bulgheroni, won in the courtroom.
Bob Dudley, BP's CEO, said the deal "further demonstrates both the high quality and attractiveness of the assets throughout BP's global portfolio." Dudley also made reference to his "company's ability to meet [its] significant financial commitments arising from the Gulf of Mexico tragedy," where a BP rig operated by Transocean caused the worst oil spill in the Gulf's history. Rivals Exxon Mobil criticized BP's handling of the situation.
The deal also underscores China's growing presence in Latinamerica through CNOOC. Last March CNOOC purchases half of Bridas Energy Holdings, an operatin involving 3.1 billion US dollars.
The operation also marks the exit of BP from Argentina.