Last minute unexpected squid catches bring relief to Argentine industry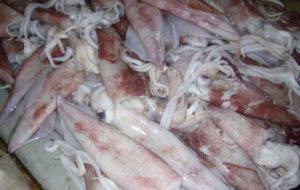 In spite of the fact that Illex squid landings in Argentina this year reached 79.947 tons, up 10% from 2009 (71.415 tons), which was a last minute relief for the local industry following three years running of poor seasons, Argentine companies remain sceptical about what can happen in 2011 south of parallel 47.
The last minute relief is attributed to the unexpected appearance of Illex to the north of parallel 41, (and higher market prices) which helped the industry cope with costs and customers.
"It was an atypical season because at the start we virtually found no squid south of parallel 47, a bit more to the north in the Comodoro Rivadavia area, but overall catches were very poor, with the fleet having to call it a day well before the season was over", said a member of CAPA (Argentine Chamber of Jigger Vessels Ship-owners).
Then in June a great mass was sighted and the fleet was out again, but not all of them since many jiggers were in critical condition, short of supplies and fuel, revealed the CAPA source who nevertheless pointed out that squid catches to the north and in the ZCP in no way can be described as exceptional, since daily catches averaged 15 tons with a high percentage of 18 and 18 to 23 centimetres sizes and 100/200 and 200/300 grams weight.
However lack of sufficient Illex has helped prices, "which this year ranged between 1.600 and 3.000 US dollars the ton", although what can happen in 2011 remains "a mystery because nobody knows how catches will behave or how demand will react under the current global circumstances".
Nevertheless most Argentine companies admit to have managed "to survive" because of an "excellent shrimp season and good fish catches in the high seas"
However in related news from Puerto Deseado, Patagonia's Santa Cruz province, the head of the province's port authority Gustavo González anticipated "a very good 2011 season" for squid since many fishing companies are requesting information on operational costs.
"We believe next year is going to be very good since several companies with offices in Buenos Aires and with jiggers have called us asking about port costs, It's a first approach but very positive after several poor squid seasons", said Gonzalez, quoted by Patagonia Fishing.