OAS and Caricom validate Sunday's election in Haiti in spite of fraud allegations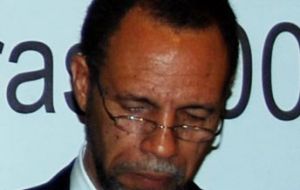 The Organization of American States, OAS, and the countries of the Caribbean Common Market, Caricom, have validated Sunday's presidential election despite irregularities that generated protests and allegations of fraud.
Colin Granderson, the head of the OAS joint observer mission and the Caricom countries ruled on Monday that elections in Haiti were valid, despite a series of violence and incidents who have led a majority of candidates to seek the annulment of the presidential election.
"The joint mission does not think that these irregularities, as serious as they are invalidate the election," said Colin Granderson. He listed "the late opening of polling stations, the difficulty of voters to find their polling place, the large number of voters who have not found their names on the registers and the call centre meant to help voters to find their office, which was saturated"
For his part, Albert Ramdin, Assistant Secretary General of the Organization of American States (OAS) said "I think the election is held, despite the irregularities that must be taken very seriously and be the subject of an investigation".
"The decision to seek annulment of the elections a few hours after the start of the process was hasty and regrettable," said Granderson. The observation mission he leads "demand that these parties provide evidence to the Electoral Council" allegations of frauds which they emitted at the time to invite to cancel the election.
Despite the protests and calls for the vote's cancellation, the electoral council said there were irregularities at only 56 of 1,500 voting centers.
Bob Maguire, an expert in Haiti and professor of international relations at Trinity Washington University in Washington, said that the international community should take the initiative in the coming days to investigate allegations of fraud and ensure that the next government in Haiti has legitimacy.
It is not enough international aid to legitimize a government, it is necessary that the turnout of the Haitian people at this election is important enough, what remains to be demonstrated (without fraud...).
Haiti's Provisional Electoral Council has declared the elections a success, despite widespread complaints of chaos and mismanagement at polling stations.
Twelve of the nearly 20 presidential candidates had called for the vote to be annulled, alleging fraud. They accused outgoing President Rene Preval of conspiring to hand the presidency to his party's candidate, Jude Celestin. But two of the candidates, Mirlande Manigat and musician Michel Martelly, later backed away from those calls.
Haitians also voted for a 99-member lower house and 11 members of the 30-seat Senate and a runoff election would be held on January 16, if needed.