Food industry in Brazil unable to fill 3.000 jobs with competent staff
Wednesday, December 1st 2010 - 07:14 UTC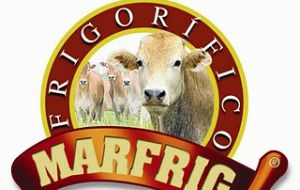 In a clear signal of the lack of qualified labour which is suffering the booming Brazilian economy, the powerful Marfrig meats' processing group admitted it was having difficulties to fill 3.000 vacancies with competent personnel.
"We are growing and there's no more competent staff available" said Marcos Molina president of the group during a business conference in Sao Paulo.
"In Brazil not only are we short of competent personnel but also of plain labour at factory level. We have 3.000 jobs in our plants which we can't cover", added Molina.
Unemployment in Brazil reached a record minimum in October, 6.1% and is expected to continue dropping in coming months.
The intense competition for qualified labour is one of the several causes that have helped to push inflation during 2010, since the short supply makes salaries rise, argue economists.
Other sectors of the Brazilian economy short of qualified personnel include construction, financial services, electronics, mechanic industries and tradesmen. The insufficient supply has made president-elect Dilma Rousseff promise that the education budget and quality teaching, particularly trades schools will become one of the priorities of the incoming administration.
Marfrig Alimentos is a Brazilian global corporation, the second largest producer of beef, broilers and pork in Brazil which has expanded aggressively overseas and currently has 151 meat processing plants and employs over 90.000 people in 23 different countries.