Putin flies to Zurich to thank FIFA for trusting Russia the 2018 World Cup
Friday, December 3rd 2010 - 06:33 UTC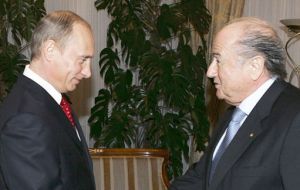 Prime Minister Vladimir Putin thanked FIFA President Sepp Blatter for the trust the association deposited in Russia that was chosen to host in 2018 football's major event, the World Cup.
"That will help us develop football in Russia. I cordially thank you from the bottom of my heart" Putin said in German at a meeting with Blatter on Thursday in Zurich where he flew after the nominations were announced.
FIFA's Executive Committee voted for Russia to host the 2018 World Cup, while Qatar was awarded the right to host the world's biggest football tournament in 2022.
The 2010 World Cup was held in South Africa and in 2014 it will move to Brazil. Blatter said FIFA is moving the tournament to new countries.
"We have shown that we are ready to go to Africa, Brazil, and Russia. Eastern Europe is an immense space where we have not been yet" he told Putin.
He praised the Russian bidding team for "a good and very emotional presentation. You spoke from the heart and everything became clear in the second round of election."
He also praised Russian Sport Minister and member of FIFA Executive Committee Vitaly Mutko.
Earlier Blatter said he was satisfied with the outcome of the 2018 and 2022 World Cup bidding processes.
"We will travel to two completely new countries. There has never been a World Cup in Russia or elsewhere in Eastern Europe," he said.
"Additionally, nations from the Middle East and the Arabic world have long been waiting to get the chance to host the World Cup. I'm clearly a satisfied man at the moment. Football is moving in the right direction and these decisions make me a happy FIFA president," Blatter said.