Keiko Fujimori daughter of jailed leader joins Peruvian presidential race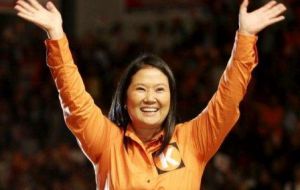 Keiko Fujimori, daughter of jailed former President Alberto Fujimori, joined Peru's presidential race, vowing to make sure the country's economic boom lifts more people out of poverty.
A popular lawmaker, she said her government would closely follow the policies pursued by her father, a right-wing populist who defeated Maoist insurgents, opened markets, and implemented programs for the poor.
Fujimori, 34, is one of three frontrunners for the April vote and polls show her with around 20% support, but analysts say she could struggle to gain further ground because of her father's legacy.
An authoritarian leader, he is in jail for ordering a death squad to carry out two massacres while Peru was battling Shining Path guerrillas. He was popular for much of his 10 years in office but his government collapsed in a corruption scandal in 2000.
"We'll govern for all Peruvians, above all the poorest ones," the younger Fujimori, dressed in jeans and a t-shirt, said at a dusty hillside slum on the outskirts of Lima, not far from the prison where her father lives.
"We have to keep growing, obviously, but we must grow with more equality," she told supporters waving the orange flags of her party.
Polls show Keiko Fujimori nearly tied with former Lima Mayor Luis Castañeda, a centre-right candidate, and former President Alejandro Toledo, a social progressive who favours free trade and foreign investment.
The economy has surged and poverty has fallen to around 35% from 50% under President Alan García, who cannot run for a second straight term. But his presidency has been marred by conflicts over natural resources that often turn violent as poor Peruvians demand their share of the country's mineral and oil wealth.
Keiko Fujimori promised a "second-generation of reforms" to make the state more efficient, improve policing, and do a better job providing services to the poor.