Ceremonies at London's Cenotaph and the Falklands to remember Battle Day
Monday, December 13th 2010 - 14:17 UTC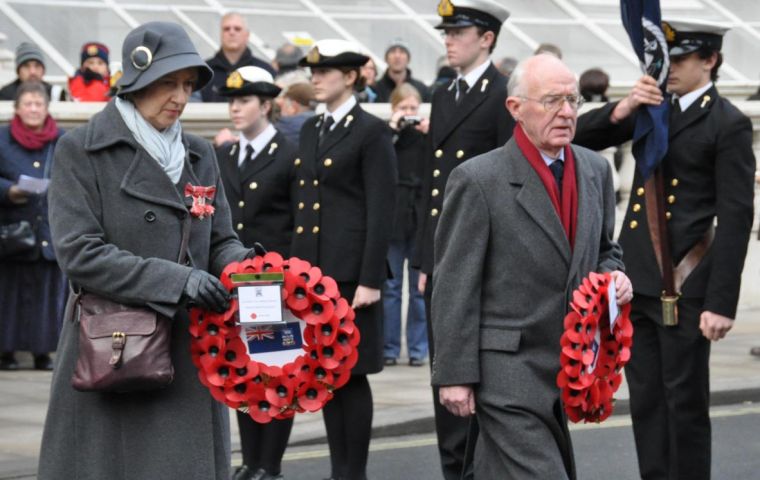 The 98th anniversary of the Battle of the Falkland Islands or Battle Day was commemorated at the Cenotaph in the heart of London last Saturday under dull skies, but in good spirits, and with a good turnout.
A similar event was held in Stanley last Wednesday 8 December, the most important date of the Faklands' calendar together with June 14, Liberation Day.
Battle Day originally commemorated the defeat of the German fleet, under the command of Admiral von Spee, which was advancing on Stanley on that day in 1914 and now also remembers those who fell both in the Second World War and in the liberation of the Islands in 1982.
In London the Colour Guard was formed by Royal Navy sailors from Portsmouth and by cadets from Pangbourne Naval College, and led by Air Commodore Peter Johnson, a former commander of British Forces in the Falklands.
Colonel Chris Keeble laid the wreath for the Armed Forces, and inspected the Colour Guard after the ceremony. He took over command of 2-PARA at the Battle of Goose Green after Colonel "H" Jones was killed. Both he and Air Commodore Johnson are now on the Falkland Islands Association Committee.
FIA Chairman David Tatham laid the wreath for the Association and Falklands Islands Government Representative Sukey Cameron on behalf of the Falklands. Many other wreaths were laid.
The service was conducted by the Reverend Stephen Palmer who has taken over as Chaplain to the FIA following the sad death of the Reverend Peter Millam earlier this year. Stephen Palmer is also a chaplain to the Queen, and is a former rector of Christchurch Cathedral in Stanley.
The ceremony was followed by the AGM of the Falkland Islands Association at the Union Jack Club in London, which was conducted by Chairman David Tatham.
Sean Moffat was awarded the Bill Hunter-Christie prize as the outstanding Falklands student of the year in Britain. He has just graduated as a design maker from Plymouth University and is now studying design technology.
In the Falklands a service in the Stanley Cathedral was followed by a parade and an act of remembrance including wreath-laying at the Battle Monument.
After the parade, which was led by the band of the Royal Marines School of Music, Governor Nigel Haywood SVO and the Commander of British Forces South Atlantic Islands Commodore Philip Thicknesse took the salute from a dais outside Government House.
Military units taking part in the parade included the Falkland Islands Defence Force and a combined services detachment. Falkland Islands youth groups were also represented. HMS Clyde was at anchor in the inner harbour, dressed overall for the occasion and the events at the Battle Monument were concluded with a flypast by an RAF Hercules. (P.Pepper from London/PNews)