Falklands' war film to be done in Isle of Man on time for 30th anniversary
Wednesday, December 15th 2010 - 01:51 UTC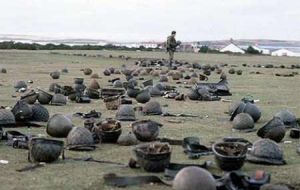 An independent feature film about the Falklands War will be made on the Isle of Man next spring. The project is called 'Betrayed' and charts a soldier's battle with post traumatic stress disorder.
The idea for the film came from a series of acting workshops held in the island this year by actor Lee Boardman.
Boardman said: "We have been staggered by how much talent there is on the Isle of Man so we have tailored the roles to fit the actors we have worked with".
"We want to make a movie about the war, but make it on a really low budget which has never really done before. It will be an Isle of Man feature film made only with actors from the Island", he added.
The three weekend-long workshops were organised by DAM Productions and held by Director Lesley Manning & actor Lee Boardman both of whom have spent the past few months developing the film script.
The aim of the project is to provide a platform for Manx actors and to give them an opportunity to work in the world of professional feature film.
Boardman continued: "We are now sure that we have the talent, dedication and inspiration to make this happen, it's a huge undertaking but we are just going to jump in and get started in spring."
The project is described by Producer Phil Gates as "A man's journey through the battle and the aftermath" and will have particular poignancy as 2012 marks the 30th anniversary of the war.
Producers from DAM Productions said: "It's tremendously exciting to be making a feature film with so much local involvement. We're thrilled Lee and Lesley recognise this talent and are so keen to create such a great opportunity on the Isle of Man.'
A percentage of profits from the film will be donated to an appropriate charity dealing with effects of post traumatic stress disorder.
On 2 April 1982, Argentina invaded the Falkland Islands, a remote Overseas Territory in the South Atlantic. The move led to a brief, but bitter war.
In the fighting that followed, 655 Argentine and 255 British servicemen lost their lives, as did three Falkland Islanders. (BBC).-