China and Argentina sign Tax information exchange agreement
Thursday, December 16th 2010 - 23:59 UTC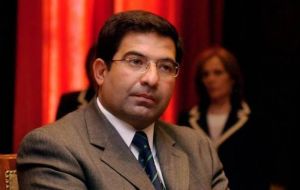 China and Argentina signed a Tax Information Exchange Agreement (TIEA) in order to improve transparency in the two countries' bilateral trade and investment.
President of China's State Administration of Taxation (SAT) Xiao Jie and President of Argentina's Federal Administration of Public Revenue (FAPR) Dr. Ricardo Echegaray completed the TIEA signing in Beijing on December 13.
For China, this is the country's seventh TIEA after the ones signed with the Bahamas, British Virgin Islands, Isle of Man, Guernsey, Jersey Island and Bermuda. This is also China's first TIEA with a sovereign country. Argentina has so far signed TIEAs with quite a few countries and jurisdictions including Spain, the United Kingdom and Brazil, and is considering signing one with India next year.
According to a report on trading information web site "Day Trading," the agreement asks for information exchange with regards to income tax, business tax and value-added tax revenue from businesses, individuals and non-profit organizations.
Echegaray commented that the agreement represented a "milestone" since China is now the fastest growing economy in the world.
"This will help both the FAPR and the SAT detect inconsistencies in trade flows and carry out the difficult task of tax collection," he said.
The bilateral trade and investment between China and Argentina has been developing rapidly. A report on FAPR's official web site says China has grown into the second largest trading partner of Argentina (behind Brazil) and the biggest target market for Argentine agricultural exports.
Currently there are 59 Chinese companies and 12,213 Chinese nationals doing business in the country.
In addition to the TIEA signing, delegates from the two countries also conducted negotiations on signing a customs agreement in order to further reduce trade friction, especially the emerging anti-dumping disputes between the two countries with increasing economic exchanges.