Canada's Nova Scotia bank takes over RBS in Chile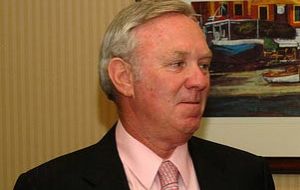 Chilean regulators approved last week the acquisition by Canada's Bank of Nova Scotia (BNS) of the The Royal Bank of Scotland, and associate companies following on the agreement signed last September.
BNS said the next step was to request Chilean regulators to allow the fusion of both financial organizations: BNS with RBS which in Chile operates under the name of Banco Sudmaricano. BNS or Scotiabank is Chile's seventh largest bank with total assets of $10.4 billion.
"We are very satisfied that we have concluded this leg of the business buying RBS operations in Chile. This operation opens a door for out business to keep expanding in the country" said James Callahan, general manage and Scotiabank country head.
He added that "through a combination of acquisitions and organic growth Scotiabank aims to continue expanding over the next few years and achieve a 10% market share in Chile".
Canada's third-largest lender, BNS has stepped up acquisitions in recent months, expanding its footprint in Latin America, where it is active in Peru, Brazil, Chile, Colombia, Costa Rica, Dominican Republic, El Salvador, Guatemala, Mexico, Panama, Puerto Rico and Venezuela.
Last month BNS pushed into Uruguay with the acquisition of private bank Nuevo Banco Comercial and consumer-finance company Pronto.