Uribe willing to accept US military forces fearing an attack from Venezuela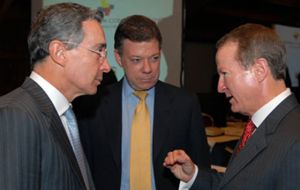 Former Colombian President Alvaro Uribe considered allowing the U.S. military access to Colombian bases as a way to deter possible Venezuelan attacks, a leaked cable from then-Ambassador to Bogotá William Brownfield says.
The cable was sent of February 5, 2009 when Colombia and the U.S. were in the midst of negotiating a pact that would allow U.S. armed forces access to at least seven Colombian military bases, but was later ruled unconstitutional by the Colombian constitutional court.
According to Brownfield, "the current negotiations come at a time when to the GOC (government of Colombia) is eager to cement the historically solid US-Colombian bilateral relationship under the new US administration".
"Colombian president Alvaro Uribe, Defence minister Juan Manuel Santos and Foreign Minister Jaime Bermudez support strong bilateral ties and see a new defence agreement as a critical component of our relationship. The GOC increasingly views Venezuela as a threat, especially given recent Venezuelan arms purchases from Russia and views a defence agreement with the US as a deterrent to possible Venezuelan aggression. On several occasions Minister of Defence Santos has alluded to the airlift of supplies from the US to Israel during the 1973 Yom Kipur war and has requested similar "assurance" from the US government in the event of a conflict with Venezuela", wrote ambassador Brownfield in the cable.
Despite the Uribe administration's enthusiasm about a possible pact, the Colombian officials told the Americans that "the agreement should avoid provoking domestic and regional sensitivities to an enhanced U.S. military presence."
"They have noted that any agreement should avoid use of the word "base" and should be linked to earlier bilateral and multilateral agreements to avoid the need for Colombian congressional approval. Senior Colombian official has repeatedly stated that their intent to avoid an agreement that would require Colombian congressional approval", pointed out the cable.
The agreement, made public in November that year, caused great friction in South America and was later declared unconstitutional by the court unless the government received congressional approval of the pact.
Santos became President in August and immediately improved relations with Venezuela. Following the Court's disapproval of the pact, the government made no efforts to have the pact ratified by congress.