Another attempt at locating treasure buried in Robinson Crusoe Island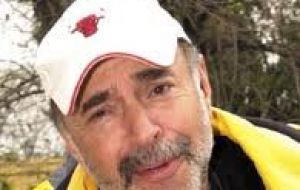 Always an optimist, U.S. treasure hunter Bernard Keiser is requesting permission from Chilean government authorities for a fifth try at locating the gold and jewels supposedly buried on Robinson Crusoe Island during the 18th century by British pirates
Keiser, whose treasure-seeking effort on the island the past 12 years has cost him an estimated US$2 million, is reportedly in the process of shelling out another US$100,000 dollars for this latest effort, which includes highly sophisticated mining video technology.
Keiser, a history and political science graduate from the University of Jacksonville, made his fortune supplying NASA with material for their space suits.
But Keiser's expenses will be well covered should he find the treasure: Chilean law will provide him 25% of any booty he discovers, and Keiser estimates the treasure's value at US$10 billion.
According to legend, the treasure originated in the Incan Empire and was stolen during the Spanish conquest of Peru in the 16th and 17th centuries. When the treasure was en route to Spain around 1715, the navigator in charge of the ship landed on Robinson Crusoe Island and buried his cargo.
Before he could return to unearth the booty, an English pirate named Cornelius Webb uncovered the Incan treasure and reburied it elsewhere on the island.
The legendary stash is reported to contain 800 barrels of gold, including precious pieces of gold and jewellery.
What became of the fortune afterwards has been the focus of speculation and myth that has survived on the island for over 300 years. Since 1998, the U.S. millionaire Keiser has been excavating caves all over the island in search of the hidden loot, but has never been able to find the "X" that marks the spot.
"Bernard thinks we will finally find the treasure with just two readings from the new equipment we are proposing to use," mining engineer Jaime Solari told La Tercera. "We've been at this for many years, now, and he has never lost his faith in the effort."
Since 1998, Keiser's excavation projects have run into a series of obstacles.
Because Robinson Crusoe Island is a UNESCO World Biosphere Reserve, Keiser's workers have only been allowed to use simple, manual tools such as shovels, brushes, and knives. Blasting and more traditional mining techniques have been severely limited. The new mining video technology that Keiser hopes to use in this latest effort promises to be much less invasive than other mining equipment he has proposed (unsuccessfully) before.
In 2004, Keiser's archaeological team discovered 10 kg of Shang Sung dynasty porcelain, noted for the elegance of the artwork and monochrome style. Keiser believes that the 880-year-old pottery is part of the treasure, and is convinced that the treasure is located near the cave of Alexander Selkirk, the Scottish sailor who inspired Daniel Defoe's "Robinson Crusoe."
By Steve Anderson - SantiagoTimes